Hammer-Driven

Installation Punches for Grommets with

Extended-Neck

Washer

These punches set grommets that have an extended-neck washer or an extended-neck tooth lock washer. Strike the punch with a wooden or rawhide mallet. Punch and die are stamped with the corresponding grommet trade size.
For Grommet
Trade Size
For Hole


Dia.

Each
1

13/32

"
0000000
000000
Hammer-Driven

Small Hole Punches

Use these punches to make round holes in soft, nonmetallic materials.
For technical drawings and 3-D models, click on a part number.
For Hole


Dia.

Lg.

Material
Each

For Use On

Fabric,

Leather,

Rubber

13/32

"
4

1/2

"
Steel
0000000
000000
Compact Portable
Lever-Operated

Hole Punch Sets
About half the size of a standard portable lever-operated punch, these punches can fit in your toolbox. The lever handle provides extra punching force to quickly punch through metal. The punches have an adjustable throat to reach varying depths from the edge of your material. Switch out the included punch and die to create holes of different sizes.
Note: As your punch size increases, the thickness of steel these tools can cut decreases.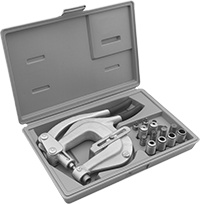 Manufacturer
Equivalent
Number
For
Hole


Dia.

For

Max.


Steel


Thick.

Punching


Force,




lbs.

Throat


Dp.

Handle


Lg.

Ht.

Wd.

Dp.

Material
Includes
Each

For Use On

Aluminum,

Brass,

Copper,

Stainless

Steel,

Steel

XX

5/32

",

7/32

",

9/32

",

11/32

",

13/32

",

15/32

",

17/32

"

1/8

"
2,000

1/4

"-3

1/4

"
10

1/4

"
6

1/2

"
1

3/4

"
7"
Steel
7 Punches, 7 Dies
0000000
0000000
Additional Punch and Die Sets