Duct Flanges
Bolt flanges to equipment to start a run of duct. They can also create secure connections between two duct ends by mounting a flange to each end and then joining the flanges.
PVC plastic flanges are chemical resistant and withstand harsh environments. They're compatible with Chemical-Resistant Duct and Fittings.
For technical drawings and 3-D models, click on a part number.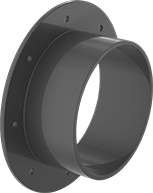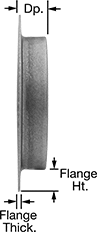 Duct
Size
Female
ID
Overall


Dp.

Ht.

Thick.

Fasteners
Included

No.

of
Holes
Hole


Dia.

Connection
Type
Each
4
4

1/2

"
2

1/4

"
1

3/4

"

1/4

"
No
4

5/16

"
Press Fit
000000
000000
6
6

5/8

"
3

1/4

"
1

1/2

"

1/4

"
No
8

5/16

"
Press Fit
0000000
00000
8
8

5/8

"
3

1/4

"
1

1/2

"

1/4

"
No
10

5/16

"
Press Fit
0000000
00000
10
10

3/4

"
3

1/4

"
1

3/8

"

1/4

"
No
12

5/16

"
Press Fit
0000000
00000
12
12

3/4

"
3

1/2

"
1

3/8

"

1/4

"
No
16

5/16

"
Press Fit
0000000
000000
14
14"
3

1/2

"
1

3/4

"

1/4

"
No
16

5/16

"
Press Fit
0000000
000000
16
16"
3

1/2

"
1

3/4

"

1/4

"
No
18

5/16

"
Press Fit
0000000
000000