How to

Identify and Measure Fittings
Pipe size is an industry designation, not the actual size. View information about how to measure threaded and unthreaded pipe and pipe fittings.
Aboveground
Standard-Wall

PVC Pipe Fittings for

Drain,

Waste,

and Vent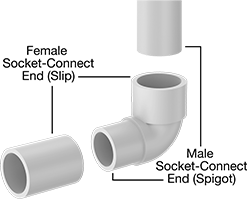 For Use

With:

Water

Max.

Temperature:

140° F

Specifications

Met:

ASTM

D1784,

ASTM D2665

Pipe Nipples and

Pipe:

Use Schedule 40 PVC Plastic

Flanges:

Use Schedule 40 PVC Plastic
These Schedule 40 fittings are the industry standard for gravity-flow drain, waste, and vent (DWV) applications. Fittings are PVC, which has good corrosion resistance. They meet ASTM D1784 and ASTM D2665 specifications and testing requirements for material quality.
Attach socket-connect ends to unthreaded pipe or another socket-connect fitting with a PVC primer and cement (also known as solvent weld).
Warning: Never use plastic pipe fittings and pipe with compressed air or gas.
For technical drawings and 3-D models, click on a part number.
Union 270° Bend Connectors, Female Socket Connect
Union 270° Bend Adapters, Female Socket Connect × Female Compression Tube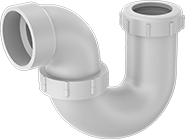 Fittings with a compression end are also known as slip-joint fittings. Insert the tube into the compression end and turn the nut until hand tight. Since you don't have to wait for cement to dry, they are quicker to install than socket-connect fittings.
270° bend fittings are also known as P-traps. They separate into three pieces, so you can access your line.