How to

Identify and Measure Fittings
Pipe size is an industry designation, not the actual size. View information about how to measure threaded and unthreaded pipe and pipe fittings.
Flame-Retardant

PVDF Pipe Fittings for Chemicals
For Use

With:

Chlorine,

Salt

Water,

Solvents
Temperature

Range:

40° to 280° F

Specifications

Met:

ASTM

D3222,

UL 94 V-0
Pipe Nipples and

Pipe:

Use Schedule 80 PVDF Plastic

Flanges:

Use Class 150 PVDF Plastic
These fittings meet UL 94 V-0 for flame retardance, so they delay the spread of flames to valuable equipment. They are made of PVDF (polyvinylidene fluoride), which is comparable to Kynar, and has the chemical resistance to stand up to solvents and other harsh substances. Also known as Schedule 80 fittings, they have thick walls for heavy duty chemical processing applications. When connecting to pipe, apply a non-hardening, plastic-compatible sealant to the male threads to prevent leaks. Tape or sealants with PTFE are not recommended for plastic-to-plastic threaded connections. When making a threaded connection be careful not to overtighten the threads. To prevent cracks and leaks, finger tighten the fitting, then wrench-tighten one to two turns. Fittings meet ASTM D3222 specifications and testing requirements for material quality.
Warning: Never use plastic pipe fittings and pipe with compressed air or gas.
Sealants cannot be sold to Colorado, Connecticut, District of Columbia, Delaware, Illinois, Indiana, Massachusetts, Maryland, Maine, Michigan, New Hampshire, New Jersey, Northern Virginia, New York, Ohio, Pennsylvania, Rhode Island, or Utah due to local VOC (Volatile Organic Compounds) regulations.
For technical drawings and 3-D models, click on a part number.
Union Straight Connectors, Female Threaded Pipe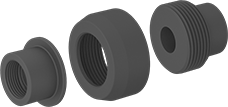 Unions separate into three pieces, so you can access your line without unthreading pipe connections.
Pipe
Size

Material
Color

O-Ring

Material

Max.

Pressure
Each

NPT Threads

1/2

PVDF Plastic

Red
Viton® Fluoroelastomer Rubber
290 psi @ 72° F
00000000
0000000

3/4

PVDF Plastic

Red
Viton® Fluoroelastomer Rubber
230 psi @ 72° F
00000000
000000
1

PVDF Plastic

Red
Viton® Fluoroelastomer Rubber
210 psi @ 72° F
00000000
000000
1

1/2

PVDF Plastic

Red
Viton® Fluoroelastomer Rubber
160 psi @ 72° F
00000000
000000
2

PVDF Plastic

Red
Viton® Fluoroelastomer Rubber
140 psi @ 72° F
00000000
000000
| | | | |
| --- | --- | --- | --- |
| Non-Hardening Thread Sealant (8-oz. Brush-Top Can) | 000000 | Each | 000000 |