Sanitary Lights for
Quick-Clamp

Fittings
Attach these lights in one of the quick-clamp ports for a clear view of what's inside tanks, filters, and other closed containers used in brewery, pharmaceutical, and food-processing lines. Made with a 316 stainless steel body that is IP65 and NEMA 4X rated, they seal out dirt and dust, and won't corrode from frequent rinsing with harsh cleaners and sanitizers. With rounded edges, polished surfaces, and a fused lens, there aren't any crevices for water and bacteria to hide in, so you can leave them mounted to machinery during cleaning. The lens doesn't contain Bisphenol A (BPA), Bisphenol B (BPB), or BPA derivates (BPX), which are chemicals that could contaminate food and beverage applications. These lights also meet ASME BPE, which is a design standard for bioprocessing equipment that helps ensure purity and safety.
You'll need to make sure your tank has at least two ports, since these lights require their own port. They mount to the port using quick-clamp clamps (not included), while leaving the other port for viewing. Mounting the light this way makes it easy to install and remove for cleaning.
With built-in LEDs, these lights last longer, are more efficient, and generate less heat than other light technologies. Their cool light appearance is good for viewing the contents of stainless steel containers, such as brew kettles and bioreactors. The narrow 25° beam angle concentrates light output through the lens and into the tank. Made of plastic, the lens resists shattering, high temperatures, corrosion, and chemicals. It's reinforced around the edge with 304 stainless steel, so it won't chip, crack, and break from the pressure of the quick-clamp fitting. Attach the lens to the body using the included set screws.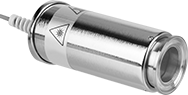 Light
Voltage
For
Tube
OD
Flange
OD

End-to-End




Lg.

Brightness,


lumens
Light
Appearance
Wattage
Body
Material

Dia.

Material
Electrical
Connection
Type

Temp.




Range,




°F

Max.




Pressure,


psi
Specifications
Met
Each
24V AC, 24V DC
1"
1.984"
6

5/8

"
1,000
Cool (5,000K)
12W
316 Stainless Steel
1

1/4

"
Plastic
Hardwire
-40° to 170°
150
ASME BPE
000000
0000000
24V AC, 24V DC
2"
2.515"
6

3/8

"
1,000
Cool (5,000K)
12W
316 Stainless Steel
1

1/4

"
Plastic
Hardwire
-40° to 170°
150
ASME BPE
000000
000000
120V AC
1"
1.984"
6

5/8

"
1,000
Cool (5,000K)
12W
316 Stainless Steel
1

1/4

"
Plastic
Hardwire
-40° to 170°
150
ASME BPE
000000
000000
120V AC
2"
2.515"
6

3/8

"
1,000
Cool (5,000K)
12W
316 Stainless Steel
1

1/4

"
Plastic
Hardwire
-40° to 170°
150
ASME BPE
000000
000000