About Selecting Temperature Sensors
Quick-Connect

RTD Probes for Surfaces

A

B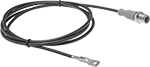 C

D

E

F

G

H

J

K
For fast installation, the tips of these RTD probes come attached to mounting connections.
Adhesive-back probes stick to your surface and have a slim profile that fits in tight spots. Bolt-on probes securely mount on machines, motors, and other equipment.
Probes with signal averaging take temperatures along the length of the probe and average them for accuracy. Use these probes to identify hot spots around cylinders, pipes, and flat surfaces without installing an immersion probe and where a point sensor may be inaccurate. One of these probes also has a braided stainless steel jacket, which protects against signal interference, corrosion, and abrasion.
Probes with a wire ferrule protect stranded wire and aid installation into screw terminals on controllers and data loggers.
Probes that meet DIN EN 60751 adhere to industry standards for accuracy. Those that meet MS-202 (Method 204, Test Condition D) are for use in high-vibration environments. Probes that meet MIL-STD-108 are submersible, so they can monitor the temperature of water in tanks or containers. IP67 rated probes protect against dust and temporary submersion.
RTD
Type
Temperature


Range,




° F

Lg.

Wd.

Thick.

Accuracy
Response


Time,




sec.

Jacket
Material

Lg.

Gauge

No.


of
Wires
Specifications
Met
Features
Each

Wire Leads

Connection—

Platinum Probe

A
100 ohms
-300° to 350°

1/4

"

1/4

"

1/16

"
±0.12%
0.15
Polyimide
36"
28

3
DIN EN 60751 Class B
__
0000000
0000000
A
100 ohms
-100° to 350°
1

1/4

"

1/2

"

1/16

"
±0.5%
0.17
Braided Stainless Steel Armor
36"
26

3
__
Overtemperature Protection, Signal Averaging
0000000
000000
A
100 ohms
-100° to 350°
1

15/16

"

3/4

"

1/16

"
±0.12%
0.1
Polyimide
36"
24

3
DIN EN 60751 Class B
__
0000000
000000
A
100 ohms
-80° to 400°
1

1/4

"
1"

1/16

"
±0.12%
0.2
Silicone
36"
24

3
DIN EN 60751 Class B
__
0000000
000000
A
100 ohms
-50° to 300°

9/16

"

3/16

"

1/16

"
±0.12%
1.3
Silicone
40"
28

3
DIN EN 60751 Class B; MIL-STD-108
__
0000000
000000
A
100 ohms
-4° to 350°

5/8

"

3/16

"

1/16

"
±0.12%
0.4
Polyimide
40"
26

3
DIN EN 60751 Class B
__
0000000
000000
A
100 ohms
-4° to 350°

5/8

"

3/16

"

1/16

"
±0.12%
1
Polyimide
40"
26

3
DIN EN 60751 Class B
__
0000000
000000
A
100 ohms
-4° to 350°

5/8

"

5/16

"

1/16

"
±0.12%
1.2
Polyimide
40"
22

3
DIN EN 60751 Class B
__
0000000
000000
A
100 ohms
-4° to 350°

13/16

"

3/8

"

1/16

"
±0.12%
0.9
Polyimide
40"
26

3
DIN EN 60751 Class B
__
0000000
000000
A
1,000 ohms
-50° to 300°

9/16

"

3/16

"

1/16

"
±0.12%
1.3
Silicone
40"
28

3
MIL-STD-108
__
0000000
000000
A
1,000 ohms
-4° to 350°

5/8

"

3/16

"

1/16

"
±0.12%
0.4
Polyimide
40"
26

2
__
__
0000000
000000
A
1,000 ohms
-4° to 350°

5/8

"

3/16

"

1/16

"
±0.12%
1
Polyimide
40"
26

2
__
__
0000000
000000
A
1,000 ohms
-4° to 350°

5/8

"

5/16

"

1/16

"
±0.12%
1.2
Polyimide
40"
22

2
__
__
0000000
000000
A
1,000 ohms
-4° to 350°

13/16

"

3/8

"

1/16

"
±0.12%
0.9
Polyimide
40"
26

2
__
__
0000000
000000
B
100 ohms
-80° to 400°
4"

3/8

"

1/16

"
±0.12%
0.6
Silicone
36"
26

3
DIN EN 60751 Class B
Signal Averaging
0000000
000000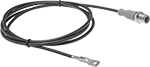 C

D

E

F

G

H

J

K
RTD
Type
Temperature


Range,




° F

Lg.

Wd.

Thick.

Accuracy
Response


Time,




sec.

Jacket
Material

Lg.

Gauge

No.


of
Wires
Wire
Color
Size

Pitch,


mm
Bolt
Hole


Dia.

Environmental
Rating
Specifications
Met
Fasteners
Included
Each

Micro M12 Plug

Connection—

Stainless Steel Probe

C
100 ohms
-40° to 190°

15/16

"

5/16

"

3/16

"
±0.5%
8
Polyurethane
__
22

4
Brown/Blue/Black/White
M5

0.8
__
IP67

DIN EN 60751 Class A
__
0000000
0000000
C
100 ohms
-40° to 190°

15/16

"

5/16

"

3/16

"
±0.5%
9
Polyurethane
__
22

4
Brown/Blue/Black/White
M6

1
__
IP67

DIN EN 60751 Class A
__
0000000
000000
C
100 ohms
-40° to 190°
2"

7/16

"

5/16

"
±0.5%
15
Polyurethane
__
22

4
Brown/Blue/Black/White
__
__

1/2

"
IP67

DIN EN 60751 Class A
__
0000000
000000
C
100 ohms
-20° to 350°

15/16

"

5/16

"

3/16

"
±0.5%
8
Silicone
__
22

4
Brown/Blue/Black/White
M5

0.8
__
IP67

DIN EN 60751 Class A
__
0000000
000000
C
100 ohms
-20° to 350°

15/16

"

5/16

"

3/16

"
±0.5%
8
Silicone
__
22

4
Brown/Blue/Black/White
M6

1
__
IP67

DIN EN 60751 Class A
__
0000000
000000

Wire Ferrule

Connection—

Stainless Steel Probe

D
100 ohms
-20° to 300°
1

3/16

"

3/8

"

11/16

"
±0.5%
12
Silicone
40"
22

4
Red/White
M12

1.5
__
IP67

DIN EN 60751 Class A
__
0000000
000000
E
100 ohms
-10° to 190°
1

13/16

"

7/16

"

5/16

"
±0.5%
39
Polyurethane
40"
22

4
Brown/Blue/Black/White
__
__

1/4

"
IP67

DIN EN 60751 Class A
__
0000000
00000

Wire Leads

Connection—

303 Stainless Steel Probe

F
100 ohms
-55° to 500°

3/8

"
__
__
±0.12%
10
PTFE
40"
26

3
Red/White

1/4

"-20

__
__
__
DIN EN 60751 Class B; MS202 (Method 204, Test Condition D)
Yes
0000000
000000
F
1,000 ohms
-55° to 500°

3/8

"
__
__
±0.12%
10
PTFE
40"
24

2
Red/White

1/4

"-20

__
__
__
MS202 (Method 204, Test Condition D)
Yes
0000000
000000
G
100 ohms
-55° to 500°

3/8

"

1/2

"

3/16

"
±0.12%
10
PTFE
40"
26

3
Red/White
__
__

5/32

"
__
DIN EN 60751 Class B; MS202 (Method 204, Test Condition D)
No
0000000
000000
G
1,000 ohms
-55° to 500°

3/8

"

1/2

"

3/16

"
±0.12%
10
PTFE
40"
24

2
Red/White
__
__

5/32

"
__
MS202 (Method 204, Test Condition D)
No
0000000
000000

Wire Leads

Connection—

316/316L

Stainless Steel Probe

H
100 ohms
-90° to 930°
1

1/4

"

5/16

"

3/16

"
±0.12%
10
Mica Glass
40"
22

3
Red/White
__
__

5/32

"
__
DIN EN 60751 Class B; MS202 (Method 204, Test Condition D)
No
0000000
000000
H
1,000 ohms
-90° to 930°
1

1/4

"

5/16

"

3/16

"
±0.12%
10
Mica Glass
40"
22

2
Red/White
__
__

5/32

"
__
MS202 (Method 204, Test Condition D)
No
0000000
000000

Wire Leads

Connection—

300 Series Stainless Steel Probe

J
100 ohms
-90° to 930°
1"

1/2

"

3/16

"
±0.12%
10
Mica Glass
40"
22

3
Red/White
__
__

5/32

"
__
DIN EN 60751 Class B; MS202 (Method 204, Test Condition D)
No
0000000
000000
J
1,000 ohms
-90° to 930°
1"

1/2

"

3/16

"
±0.12%
10
Mica Glass
40"
22

2
Red/White
__
__

5/32

"
__
MS202 (Method 204, Test Condition D)
No
0000000
000000

Wire Leads

Connection—

Nickel-Plated

Copper Probe

K
100 ohms
-55° to 500°
1"

1/2

"

3/16

"
±0.12%
10
PTFE
40"
26

3
Red/White
__
__

17/64

"
__
DIN EN 60751 Class B; MS202 (Method 204, Test Condition D)
No
0000000
000000
K
1,000 ohms
-55° to 500°
1"

1/2

"

3/16

"
±0.12%
10
PTFE
40"
24

2
Red/White
__
__

17/64

"
__
MS202 (Method 204, Test Condition D)
No
0000000
000000