Retaining Caps for
Quick-Release

Pins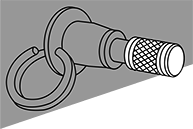 Press a retaining cap onto the end of a pin to hold it in a hole that's oversized or out of round. They're made of 18-8 stainless steel for a balance of strength and corrosion resistance.
Caps with screw included provide a convenient attachment point for a lanyard (sold separately).
Caps that are passivated offer added protection against corrosion and oxidation.
For technical drawings and 3-D models, click on a part number.
For Pin


Dia.

Cap OD
Overall


Lg.

Usable

Lg.


Reduction
Material
Passivation
Each

Inch

3/16

"

3/8

"

9/16

"

1/8

"
18-8 Stainless Steel
Passivated
000000000
000000

1/4

"

3/8

"

9/16

"

1/8

"
18-8 Stainless Steel
Not Passivated
000000000
00000

5/16

"

1/2

"

5/8

"

1/8

"
18-8 Stainless Steel
Not Passivated
000000000
00000

3/8

"

9/16

"

3/4

"

3/16

"
18-8 Stainless Steel
Not Passivated
000000000
00000

1/2

"

3/4

"
1"

1/4

"
18-8 Stainless Steel
Not Passivated
000000000
00000

5/8

"
1"
1

1/4

"

1/4

"
18-8 Stainless Steel
Passivated
000000000
00000

Metric

6mm
9.5mm
14.7mm
3mm
18-8 Stainless Steel
Passivated
000000000
00000
8mm
12.7mm
15.9mm
3mm
18-8 Stainless Steel
Passivated
000000000
00000
10mm
14.3mm
18.5mm
5mm
18-8 Stainless Steel
Passivated
000000000
00000
12mm
19.1mm
25.4mm
6mm
18-8 Stainless Steel
Passivated
000000000
00000
16mm
25.4mm
31.8mm
6mm
18-8 Stainless Steel
Passivated
000000000
00000
For Pin


Dia.

Cap
OD
Overall


Lg.

Usable

Lg.


Reduction
Material
Passivation
Each

Inch

3/16

"

3/8

"

9/16

"

1/8

"
18-8 Stainless Steel
Passivated
000000000
000000

1/4

"

3/8

"

9/16

"

1/8

"
18-8 Stainless Steel
Passivated
000000000
00000

5/16

"

1/2

"

5/8

"

1/8

"
18-8 Stainless Steel
Passivated
000000000
00000

3/8

"

9/16

"

3/4

"

3/16

"
18-8 Stainless Steel
Passivated
000000000
00000

1/2

"

3/4

"
1"

1/4

"
18-8 Stainless Steel
Passivated
000000000
00000

5/8

"
1"
1

1/4

"

1/4

"
18-8 Stainless Steel
Passivated
000000000
00000
| | | | |
| --- | --- | --- | --- |
| 6" Lg. Lanyard for 3/8" to 3/4" OD Caps | 000000000 | Each | 00000 |
| 18" Lg. Lanyard for 3/8" to 3/4" OD Caps | 000000000 | Each | 0000 |
| 12" Lg. Lanyard for 3/8" to 3/4" OD Caps | 000000000 | Each | 0000 |
| 3 ft. Lg. Lanyard for 1" OD Caps | 000000000 | Each | 00000 |
| 12" Lg. Lanyard for 1" OD Caps | 000000000 | Each | 00000 |
| 24" Lg. Lanyard for 1" OD Caps | 000000000 | Each | 00000 |