Air Conditioner

Charging and Testing Manifolds
Monitor refrigerant pressure with analog gauges when servicing air conditioning systems. All manifolds have double O-ring piston valves. Manifolds with sight glass allow you to view liquid levels.
Replacement gauges are sold separately.
Optional gauge cover sets (sold separately) include one blue and one red gauge cover. They are not for use with the manifolds for R-410A refrigerant.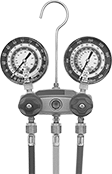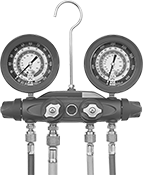 Four Valve
For
Refrigerant
Number
Valve
Material
Connection

Lg.,




ft.

Dia.

Color
Includes
Each

Two Valve

R-22, R-404A, R-410A
Aluminum

1/4

UN/UNF (SAE 45°) ×

1/4

UN/UNF (SAE 45°) ×

1/4

UN/UNF (SAE 45°)
5
3

1/8

"
One Blue and One Red
Sight Glass
0000000
0000000

Four Valve

R-22, R-404A, R-410A
Aluminum

1/4

UN/UNF (SAE 45°) ×

1/4

UN/UNF (SAE 45°) ×

1/4

UN/UNF (SAE 45°) ×

3/8

UN/UNF (SAE 45°)
5
3

1/8

"
One Blue and One Red
Sight Glass
0000000
000000
Optional Gauge Cover Sets