Rack and Conveyor Netting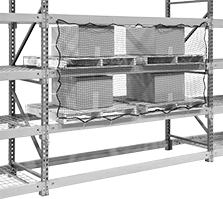 Attach netting to your racks and conveyors to secure inventory, increase safety, and help meet OSHA requirements. To achieve the stated capacity, netting must be properly secured in 1-ft increments with cable ties that are rated 175 lbs. and higher (not included).
Warning: Not for use as a personnel restraint.
Overall


Capacity,




lbs.

Cord


Dia.

Border


Dia.

Ht.

Wd.

Cord
Material
Border
Material
Color
Fasteners
Included
Specifications
Met
Choose an
Overall


Wd.,

ft.

Per


Ft.

250
0.06"

5/16

"

3/4

"

3/4

"
Nylon
Polypropylene
Black
No
NFPA (National Fire Protection Agency) Code 701
0000000
00000
500
0.05"

5/16

"
1"
1"
Nylon
Polypropylene
Black
No
NFPA (National Fire Protection Agency) Code 701
0000000
0000
1,250
0.09"

5/16

"
1

3/4

"
1

3/4

"
Nylon
Polypropylene
Black
No
NFPA (National Fire Protection Agency) Code 701
0000000
0000
250
0.06"

5/16

"

3/4

"

3/4

"
Nylon
Polypropylene
Black
No
NFPA (National Fire Protection Agency) Code 701
0000000
00000
500
0.05"

5/16

"
1"
1"
Nylon
Polypropylene
Black
No
NFPA (National Fire Protection Agency) Code 701
0000000
0000
1,250
0.09"

5/16

"
1

3/4

"
1

3/4

"
Nylon
Polypropylene
Black
No
NFPA (National Fire Protection Agency) Code 701
0000000
00000
500
0.05"

5/16

"
1"
1"
Nylon
Polypropylene
Black
No
NFPA (National Fire Protection Agency) Code 701
0000000
00000
1,250
0.09"

5/16

"
1

3/4

"
1

3/4

"
Nylon
Polypropylene
Black
No
NFPA (National Fire Protection Agency) Code 701
0000000
00000
250
0.06"

5/16

"

3/4

"

3/4

"
Nylon
Polypropylene
Black
No
NFPA (National Fire Protection Agency) Code 701
0000000
00000
500
0.05"

5/16

"
1"
1"
Nylon
Polypropylene
Black
No
NFPA (National Fire Protection Agency) Code 701
0000000
00000
1,250
0.09"

5/16

"
1

3/4

"
1

3/4

"
Nylon
Polypropylene
Black
No
NFPA (National Fire Protection Agency) Code 701
0000000
00000
2,500
0.19"

5/16

"
4"
4"
Nylon
Polypropylene
Black
No
NFPA (National Fire Protection Agency) Code 701
0000000
00000
1,250
0.09"

5/16

"
1

3/4

"
1

3/4

"
Nylon
Polypropylene
Black
No
NFPA (National Fire Protection Agency) Code 701
0000000
00000
2,500
0.19"

5/16

"
4"
4"
Nylon
Polypropylene
Black
No
NFPA (National Fire Protection Agency) Code 701
0000000
00000