Conveyor Guide Clamps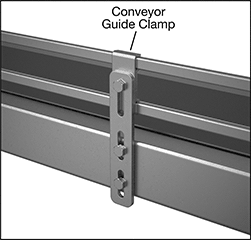 A

B

C

D

E

F

G

H
J

K

L

M

N

P

Q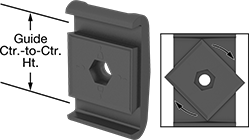 R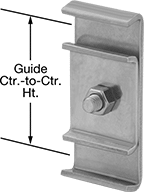 S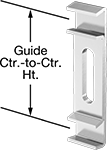 T

U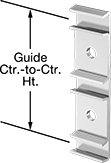 V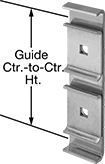 W
Clamps hold guide rails in place or join ends of a rail together.
Use some clamps with threaded mounting rods or mounting brackets to hold guide rails in place. Styles A, L, N, and P have an integrated bolt for easy mounting. Styles B, D, M, Q, U, and W use a hex or carriage bolt. Carriage bolts are useful for mounting in tight spaces because there's no need to hold them steady with a wrench or socket while fastening them. Styles C and V, as well as styles S and U that have a 3/8" mounting hole diameter, mount using a hex bolt. You'll need access to both sides when fastening them in order to hold the bolt steady with a wrench or socket. Styles J and R have a hex-shaped hole that holds the bolt as you fasten the other side. Style T has a slotted mounting hole for making quick adjustments to guide rails.
Style F connects a guide rail to a mounting rod, mounting bar, or sensor bar.
Style H has a rod slot for connecting a guide rail to an unthreaded, solid mounting rod.
Some clamps have a tight-fitting sleeve to join two guide rails. Styles A, B, L, M, P, and Q include bolts and nuts for a stronger connection. Style K taps on with a hammer. Style N tightens with knobs.
For technical drawings and 3-D models, click on a part number.

A

B

C

D

E

F

G

H
J

K

L

M

N

P

Q
Style

Wd.

Ht.

For
Channel

Ht.

For Rod


Dia.

Slot


Lg.

Thread
Size

Material

Mount.


Fasteners
Included

Mount.


Hole


Dia.

Each
A
1.00"
0.85"
0.67"
__
__

5/16

"-18

Stainless Steel
__
__
0000000
00000
B
1.25"
0.80"
0.67"
__
__
__
Stainless Steel
No

5/16

"
0000000
00000
C
1.50"
1.50"
0.67"
__
__
__
Stainless Steel
No

5/16

"
00000000
0000
C
3.00"
1.50"
0.67"
__
__
__
Stainless Steel
No

5/16

"
00000000
00000
D
1.50"
1.50"
0.67"
__
__
__
Stainless Steel
No

5/16

"
0000000
0000
E
2.30"
0.90"
__

1/2

"
1.04"

5/16

"-18

Plastic
__
__
0000000
00000
F
2.30"
1.10"
0.67"

1/2

"
1.04"

5/16

"-18

Plastic
__
__
0000000
00000
G
1.06"
1.46"
__

1/2

"
__
10-32

Plastic
__
__
0000000
0000
H
0.96"
1.43"
0.67"
__
__
10-32

Plastic
__
__
0000000
0000
J
0.98"
1.14"
0.67"
__
__
__
Plastic
No

5/16

"
0000000
0000
K
2.00"
0.84"
0.67"
__
__
__
Stainless Steel
__
__
0000000
0000
K
3.00"
0.84"
0.67"
__
__
__
Stainless Steel
__
__
0000000
0000
K
4.00"
0.81"
0.67"
__
__
__
Stainless Steel
__
__
0000000
0000
K
6.00"
0.84"
0.67"
__
__
__
Stainless Steel
__
__
0000000
0000
L
3.00"
0.82"
0.67"
__
__

5/16

"-18

Stainless Steel
__
__
00000000
00000
L
4.00"
0.80"
0.67"
__
__

5/16

"-18

Stainless Steel
Yes
__
0000000
00000
L
4.00"
0.80"
0.67"
__
__
M8

Stainless Steel
Yes
__
0000000
00000
L
6.00"
0.80"
0.67"
__
__

5/16

"-18

Stainless Steel
Yes
__
0000000
00000
L
8.00"
0.80"
0.67"
__
__

5/16

"-18

Stainless Steel
Yes
__
0000000
00000
M
3.00"
0.80"
0.67"
__
__

5/16

"-18

Stainless Steel
Yes
__
0000000
00000
M
4.00"
0.80"
0.67"
__
__

5/16

"-18

Stainless Steel
Yes
__
0000000
00000
M
6.00"
0.80"
0.67"
__
__

5/16

"-18

Stainless Steel
Yes
__
0000000
00000
M
8.00"
0.80"
0.67"
__
__

5/16

"-18

Stainless Steel
Yes
__
0000000
00000
N
3.00"
0.90"
0.67"
__
__
__
Stainless Steel
__
__
0000000
00000
N
4.00"
0.80"
0.67"
__
__

5/16

"-18

Stainless Steel
Yes
__
0000000
00000
N
6.00"
0.80"
0.67"
__
__

5/16

"-18

Stainless Steel
Yes
__
0000000
00000
P
8.00"
0.80"
0.67"
__
__

5/16

"-18

Stainless Steel
Yes
__
0000000
00000
Q
8.00"
0.80"
0.67"
__
__

5/16

"-18

Stainless Steel
Yes
__
0000000
00000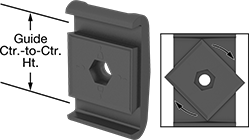 R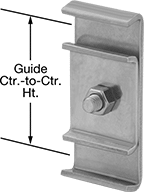 S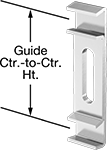 T

U
Style

Wd.

Ht.

For
Channel

Ht.

Guide


Ctr.-to-Ctr.

Ht.

For
Rod


Dia.

Slot


Lg.

Material

Mount.


Fasteners
Included

Mount.


Hole


Dia.

Each
R
2.15"
3.60"
0.67"
2.76"

1/2

"
__
Plastic
No

3/8

"
0000000
000000
S
1.50"
3.43"
0.67"
2.50"
__
__
Stainless Steel
Yes

3/8

"
0000000
00000
S
1.50"
4.19"
0.67"
3.25"
__
__
Stainless Steel
No

3/8

"
0000000
00000
T
1.00"
4.19"
0.67"
3.31"
__
1

1/4

"
Stainless Steel
No

3/8

"
0000000
00000
U
1.50"
3.38"
0.67"
2.50"
__
__
Stainless Steel
No

5/16

"
0000000
00000
U
1.50"
4.19"
0.67"
3.25"
__
__
Stainless Steel
No

5/16

"
0000000
00000
U
1.50"
4.73"
0.67"
3.75"
__
__
Stainless Steel
No

5/16

"
00000000
00000
U
3.00"
3.38"
0.67"
2.50"
__
__
Stainless Steel
No

5/16

"
00000000
00000
U
3.00"
3.38"
0.67"
2.50"
__
__
Stainless Steel
No

3/8

"
0000000
00000