Straight and
L-Brackets

for Conveyors
These brackets mount to the frame of a conveyor to hold guide rails and accessories.
One-piece L brackets attach to a vertical guide rail or sensor.
Two-piece L brackets allow for offset mounting and extra clearance between the conveyor and guide rail or sensor.
For technical drawings and 3-D models, click on a part number.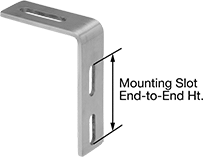 D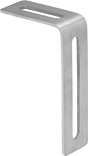 E
Wd.

Ht.

Thick.

Material
Mounting
Fasteners Included

Wd.

Ht.

End-to-End




Ht.

Each
D
3

1/4

"
5"

1/8

"
Stainless Steel
No
__
__
3.25"
00000000
000000
D
3

3/4

"
5"

3/16

"
Stainless Steel
No
0.40"
0.40"
1.25"
2.00"
3.25"
00000000
00000
D
3

3/4

"
5"

1/4

"
Stainless Steel
No
0.40"
0.40"
1.25"
2.00"
3.25"
00000000
00000
E
3

3/16

"
5

5/16

"

1/8

"
Stainless Steel
No
0.40"
0.40"
4.13"
2.00"
4.13"
00000000
00000
E
3

3/16

"
5

5/16

"

1/4

"
Stainless Steel
No
0.40"
0.40"
4.13"
2.00"
4.13"
00000000
00000
E
3

1/4

"
5

5/16

"

3/16

"
Stainless Steel
No
__
__
4.13"
00000000
00000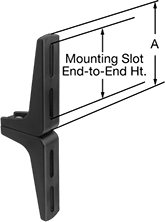 F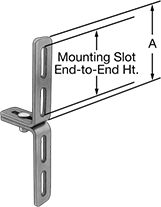 G
Wd.

Ht.

Ht.

(A)

Thick.

Material
Mounting
Fasteners Included

Wd.

Ht.

End-to-End




Ht.

Each
F
3

5/8

"
11

3/4

"
5.85"
__
Plastic
No
0.330"
1.85"
4.35"
0000000
000000
G
3

1/4

"
10

5/8

"
5.30"

1/8

"
Stainless Steel
No
0.400"
1.75"
4.13"
0000000
00000
G
3

1/4

"
10

5/8

"
5.30"

3/16

"
Stainless Steel
No
0.400"
1.75"
4.13"
00000000
00000
G
3

1/4

"
10

5/8

"
5.30"

1/4

"
Stainless Steel
No
0.400"
1.75"
4.13"
00000000
00000