These shafts include a support rail for a stable setup that eliminates bending and prevents linear bearings from rotating. Shafts have a smooth surface to reduce friction and wear on linear bearings—the lower the microinch value a shaft has, the smoother its finish and the less friction it will create. They are case-hardened to increase hardness and wear resistance on the surface of the shaft while allowing the center to remain soft for absorbing stresses caused by shifting loads. The edges are chamfered to remove sharp corners, reducing damage to bearings, housings, and other components during installation. All are turned, ground, and polished to tight diameter and straightness tolerances.
One-piece shafts reduce vibration and assembly time. Two-piece shafts allow you to replace the shaft when it becomes worn.
Ceramic-coated aluminum shafts are good for use in harsh environments; a 0.002" thick ceramic coating prevents weld spatter, molten glass, and paint from sticking to the shaft. They are lighter in weight than steel and stainless steel shafts. Because they have a soft core, they are not for use with linear ball bearings, which may dent the shaft.
Carbon steel shafts are stronger than aluminum shafts but not as corrosion resistant. These shafts balance high strength and good machinability, making them ideal for general purpose use.
Stainless steel shafts have good corrosion resistance and are stronger than aluminum shafts.
For technical drawings and 3-D models, click on a part number.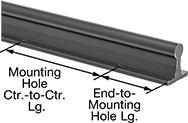 Lg.

Lg.


Tolerance

Ctr.




Ht.

O'all




Wd.

End-to-Mount.


Hole


Lg.

Ctr.-to-Ctr.




Lg.

Ctr.-to-Ctr.




Wd.

Dia.

Mounting
Fasteners
Included
Surface


Smoothness,


microinch
Hardness
Rating
Hardness
Each

Inch—

Ceramic-Coated

6063 Aluminum

(T6 Temper)

1/2"

Dia.

(Tolerance:

-0.0012"

to

-0.0004")

6"
-0.03" to 0.03"
1

1/8

"
1

1/2

"
1"
4"
1"

5/32

"
No
12
Ultra Hard
Rockwell C70
0000000
000000
9"
-0.03" to 0.03"
1

1/8

"
1

1/2

"
2

1/2

"
4"
1"

5/32

"
No
12
Ultra Hard
Rockwell C70
0000000
00000
12"
-0.03" to 0.03"
1

1/8

"
1

1/2

"
2"
4"
1"

5/32

"
No
12
Ultra Hard
Rockwell C70
0000000
000000
18"
-0.03" to 0.03"
1

1/8

"
1

1/2

"
1"
4"
1"

5/32

"
No
12
Ultra Hard
Rockwell C70
0000000
000000
24"
-0.03" to 0.03"
1

1/8

"
1

1/2

"
2"
4"
1"

5/32

"
No
12
Ultra Hard
Rockwell C70
0000000
000000

3/4"

Dia.

(Tolerance:

-0.0012"

to

-0.0004")

6"
-0.03" to 0.03"
1

1/2

"
1

3/4

"
3"
__
1

1/4

"

7/32

"
No
12
Ultra Hard
Rockwell C70
0000000
00000
9"
-0.03" to 0.03"
1

1/2

"
1

3/4

"
1

1/2

"
6"
1

1/4

"

7/32

"
No
12
Ultra Hard
Rockwell C70
0000000
00000
12"
-0.03" to 0.03"
1

1/2

"
1

3/4

"
3"
6"
1

1/4

"

7/32

"
No
12
Ultra Hard
Rockwell C70
0000000
000000
18"
-0.03" to 0.03"
1

1/2

"
1

3/4

"
3"
6"
1

1/4

"

7/32

"
No
12
Ultra Hard
Rockwell C70
0000000
000000
24"
-0.03" to 0.03"
1

1/2

"
1

3/4

"
3"
6"
1

1/4

"

7/32

"
No
12
Ultra Hard
Rockwell C70
0000000
000000

1"

Dia.

(Tolerance:

-0.0012"

to

-0.0004")

6"
-0.03" to 0.03"
1

3/4

"
2

1/8

"
3"
__
1

1/2

"

9/32

"
No
12
Ultra Hard
Rockwell C70
0000000
00000
9"
-0.03" to 0.03"
1

3/4

"
2

1/8

"
1

1/2

"
6"
1

1/2

"

9/32

"
No
12
Ultra Hard
Rockwell C70
0000000
000000
12"
-0.03" to 0.03"
1

3/4

"
2

1/8

"
3"
6"
1

1/2

"

9/32

"
No
12
Ultra Hard
Rockwell C70
0000000
000000
18"
-0.03" to 0.03"
1

3/4

"
2

1/8

"
3"
6"
1

1/2

"

9/32

"
No
12
Ultra Hard
Rockwell C70
0000000
000000
24"
-0.03" to 0.03"
1

3/4

"
2

1/8

"
3"
6"
1

1/2

"

9/32

"
No
12
Ultra Hard
Rockwell C70
0000000
000000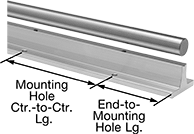 Lg.

Lg.


Tolerance

Ctr.




Ht.

O'all




Wd.

End-to-Mount.


Hole


Lg.

Ctr.-to-Ctr.




Lg.

Ctr.-to-Ctr.




Wd.

Dia.

Mounting
Fasteners
Included
Surface


Smoothness,


microinch
Hardness
Rating
Hardness
Each

1/2"

Dia.

(Tolerance:

-0.001"

to

-0.0005")

24"
-0.0313" to 0.0313"
1

1/8

"
1

1/2

"
2"
4"
1"

5/32

"
No
8
Very Hard
Rockwell C60
00000000
0000000
48"
-0.0313" to 0.0313"
1

1/8

"
1

1/2

"
2"
4"
1"

5/32

"
No
8
Very Hard
Rockwell C60
00000000
000000

5/8"

Dia.

(Tolerance:

-0.001"

to

-0.0005")

24"
-0.0313" to 0.0313"
1

1/8

"
1

5/8

"
2"
4"
1

1/8

"

3/16

"
No
8
Very Hard
Rockwell C60
00000000
000000
48"
-0.0313" to 0.0313"
1

1/8

"
1

5/8

"
2"
4"
1

1/8

"

3/16

"
No
8
Very Hard
Rockwell C60
00000000
000000

3/4"

Dia.

(Tolerance:

-0.001"

to

-0.0005")

24"
-0.0313" to 0.0313"
1

1/2

"
1

3/4

"
3"
6"
1

1/4

"

7/32

"
No
8
Very Hard
Rockwell C60
00000000
000000
48"
-0.0313" to 0.0313"
1

1/2

"
1

3/4

"
3"
6"
1

1/4

"

7/32

"
No
8
Very Hard
Rockwell C60
00000000
000000

1"

Dia.

(Tolerance:

-0.001"

to

-0.0005")

24"
-0.0313" to 0.0313"
1

3/4

"
2

1/8

"
3"
6"
1

1/2

"

9/32

"
No
8
Very Hard
Rockwell C60
00000000
000000
48"
-0.0313" to 0.0313"
1

3/4

"
2

1/8

"
3"
6"
1

1/2

"

9/32

"
No
8
Very Hard
Rockwell C60
00000000
000000

1 1/4"

Dia.

(Tolerance:

-0.001"

to

-0.0005")

24"
-0.0313" to 0.0313"
2

1/8

"
2

1/2

"
3"
6"
1

7/8

"

11/32

"
No
8
Very Hard
Rockwell C60
00000000
000000
48"
-0.0313" to 0.0313"
2

1/8

"
2

1/2

"
3"
6"
1

7/8

"

11/32

"
No
8
Very Hard
Rockwell C60
00000000
000000

1 1/2"

Dia.

(Tolerance:

-0.0011"

to

-0.0006")

24"
-0.0313" to 0.0313"
2

1/2

"
3"
4"
8"
2

1/4

"

11/32

"
No
8
Very Hard
Rockwell C60
00000000
000000
48"
-0.0313" to 0.0313"
2

1/2

"
3"
4"
8"
2

1/4

"

11/32

"
No
8
Very Hard
Rockwell C60
00000000
000000

Inch—

440C Stainless Steel

1/2"

Dia.

(Tolerance:

-0.001"

to

-0.0005")

24"
-0.0313" to 0.0313"
1

1/8

"
1

1/2

"
2"
4"
1"

5/32

"
No
8
Very Hard
Rockwell C50
0000000
000000
48"
-0.0313" to 0.0313"
1

1/8

"
1

1/2

"
2"
4"
1"

5/32

"
No
8
Very Hard
Rockwell C50
0000000
000000

5/8"

Dia.

(Tolerance:

-0.001"

to

-0.0005")

24"
-0.0313" to 0.0313"
1

1/8

"
1

5/8

"
2"
4"
1

1/8

"

3/16

"
No
8
Very Hard
Rockwell C50
0000000
000000
48"
-0.0313" to 0.0313"
1

1/8

"
1

5/8

"
2"
4"
1

1/8

"

3/16

"
No
8
Very Hard
Rockwell C50
0000000
000000

3/4"

Dia.

(Tolerance:

-0.001"

to

-0.0005")

24"
-0.0313" to 0.0313"
1

1/2

"
1

3/4

"
3"
6"
1

1/4

"

7/32

"
No
8
Very Hard
Rockwell C50
0000000
000000
48"
-0.0313" to 0.0313"
1

1/2

"
1

3/4

"
3"
6"
1

1/4

"

7/32

"
No
8
Very Hard
Rockwell C50
0000000
000000

1"

Dia.

(Tolerance:

-0.001"

to

-0.0005")

24"
-0.0313" to 0.0313"
1

3/4

"
2

1/8

"
3"
6"
1

1/2

"

9/32

"
No
8
Very Hard
Rockwell C50
0000000
000000
48"
-0.0313" to 0.0313"
1

3/4

"
2

1/8

"
3"
6"
1

1/2

"

9/32

"
No
8
Very Hard
Rockwell C50
0000000
000000

1 1/4"

Dia.

(Tolerance:

-0.001"

to

-0.0005")

24"
-0.0313" to 0.0313"
2

1/8

"
2

1/2

"
3"
6"
1

7/8

"

11/32

"
No
8
Very Hard
Rockwell C50
0000000
000000
48"
-0.0313" to 0.0313"
2

1/8

"
2

1/2

"
3"
6"
1

7/8

"

11/32

"
No
8
Very Hard
Rockwell C50
0000000
00000000

1 1/2"

Dia.

(Tolerance:

-0.0011"

to

-0.0006")

24"
-0.0313" to 0.0313"
2

1/2

"
3"
4"
8"
2

1/4

"

11/32

"
No
8
Very Hard
Rockwell C50
0000000
000000
48"
-0.0313" to 0.0313"
2

1/2

"
3"
4"
8"
2

1/4

"

11/32

"
No
8
Very Hard
Rockwell C50
0000000
00000000

12mm

Dia.

(Tolerance: -0.011mm to 0mm)

600mm
-1.2mm to 1.2mm
28mm
43mm
37.5mm
75mm
29mm
4.5mm
No
12
Very Hard
Rockwell C60
00000000
000000
1,200mm
-5mm to 0mm
28mm
43mm
37.5mm
75mm
29mm
4.5mm
No
12
Very Hard
Rockwell C60
00000000
000000

16mm

Dia.

(Tolerance: -0.011mm to 0mm)

600mm
-1.2mm to 1.2mm
30mm
48mm
50mm
100mm
33mm
5.5mm
No
12
Very Hard
Rockwell C60
00000000
000000
1,200mm
-5mm to 0mm
30mm
48mm
50mm
100mm
33mm
5.5mm
No
12
Very Hard
Rockwell C60
00000000
000000

20mm

Dia.

(Tolerance: -0.013mm to 0mm)

600mm
-1.2mm to 1.2mm
38mm
56mm
50mm
100mm
37mm
6.6mm
No
12
Very Hard
Rockwell C60
00000000
000000
1,200mm
-5mm to 0mm
38mm
56mm
50mm
100mm
37mm
6.6mm
No
12
Very Hard
Rockwell C60
00000000
000000

25mm

Dia.

(Tolerance: -0.013mm to 0mm)

1,200mm
-5mm to 0mm
42mm
60mm
60mm
120mm
42mm
6.6mm
No
12
Very Hard
Rockwell C60
00000000
000000

30mm

Dia.

(Tolerance: -0.013mm to 0mm)

1,200mm
-5mm to 0mm
53mm
74mm
75mm
150mm
51mm
9mm
No
12
Very Hard
Rockwell C60
00000000
000000