Wireless Weather Stations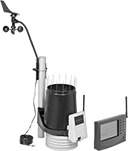 Monitor nine different weather conditions up to 1,000 feet away. The outdoor weather sensor measures outdoor temperature, humidity, wind speed and direction, rainfall rate, total rainfall, barometric pressure, heat index, wind chill, and dew point. It wirelessly transmits readings to the console by radio signal. Console has built-in sensors to measure indoor temperature and humidity. Console can be placed on a desk or mounted to a wall. It cannot be sold outside the United States due to product registration requirements.
Max.


Transmission


Distance,

ft.

Mounting
Location
Console
Housing
Material
Sensor
Housing
Material
Sensor
Power
AC
Voltage
Range
Cord


Lg.,




ft.

Electrical
Connection
Features
Batteries
Included
Cannot
Be
Sold To
Each
1,000
Pipe, Wall
Plastic
Plastic
Solar
100 to 240
10
Two-Prong Plug
Battery Backup
Yes
Outside United States
0000000
0000000
Rugged-Service

Weather Stations
When long life with little maintenance is critical, rely on the same rugged weather equipment used by the National Weather Service. For a complete weather station, you'll need at least one sensor, a sensor cable, and either the Weather Data Center Display or one of the Real-Time Displays.
All mount on vertical 1" pipe (1 3/8" OD). Mounting hardware is included; pipe is not included. Connect to power using screw terminals.
(A) Temperature/Relative Humidity Sensor—Includes a shield that maintains accurate temperature readings by reducing sensor exposure to solar radiation and precipitation. Operates on 10-28 VDC. Output is 4-20 mA.
(B) Barometric Pressure Sensor—Operates on 7-30 VDC. Output is 4-20 mA. Enclosure (sold separately) is required. Optional wind screen reduces variance in measurements caused by wind gusts.
(C) Wind Speed/Wind Direction Sensor—Operates on 8-15 VDC. Output is pulse for wind speed and analog voltage for wind direction. Optional line driver converts the output into 4-20 mA for use with standard PLCs (programmable logic controllers).
(D) Rainfall Intensity Sensor—Does not require a power supply. Output is pulse.
Weather Data Center Display (For Sensors A-D)—Presents live readings from up to eight sensors and logs more than two million readings for later upload to your PC using an RS-232 serial communication cable (sold separately). It can also be programmed to activate alarms on up to four readings. Resolution is 0.1° F for temperature, 1% for relative humidity, 0.01" Hg for barometric pressure, 1 mph for wind speed, 1° for wind direction, and 0.01" for rainfall. Display operates on 10-30 VDC or the included 115 VAC adapter with 6-ft. power cord and two-prong plug. Overall size is 5 11/16" Ht. × 7 7/8" Wd. × 2 1/8" Dp.
Real-Time Displays (For Sensors A and C)—Get accurate, real-time data from either the temperature/relative humidity sensor or wind speed/wind direction sensor. Alarms activate when your chosen thresholds are reached. Resolution is 0.1° F for temperature, 1% for relative humidity, 1 mph for wind speed, and 10° for wind direction. Displays can be linked in parallel to feed multiple displays from a single sensor. They operate on 12-30 VDC or the included 110 VAC adapter with 6-ft. power cord and two-prong plug. Overall size is 5 11/16" Ht. × 5 11/16" Wd. × 1 7/16" Dp.
Rain Gauges

Measure the amount of rainfall with these gauges.
Measurement Range
Graduation
Marks

Lg.

Housing
Material
Mounting
Location
Fasteners
Included
Each
0.1 to 5.5" / 1 to 140 mm
0.1"/2 mm
10"
Acrylic
Ground, Wall
Yes
000000
000000