Inch Size
High-Speed

Steel

Drill-Length

Reamer Sets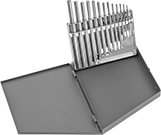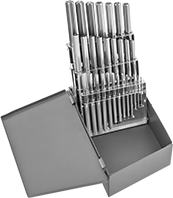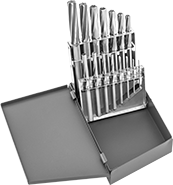 These reamers have the same overall length as jobbers' drill bits for tool interchangeability. The overall length is shorter than standard-length reamers for added rigidity.
Straight-flute reamers are for general purpose cutting.
Spiral-flute reamers have a right-hand spiral and a right-hand cut. They pull chips upward as they cut, so they're often used in blind holes. Spiral flutes create a smoother finish than straight flutes and work well in keyways and other applications with an interrupted cut.
For technical drawings and 3-D models, click on a part number.
Sizes Included
Number
of Pieces
Spiral
Cut
Container
Type
For Use On
Set

Straight Flute

1/16

"-

1/4

" (Increments of

1/64

")
13
__
__
Metal Case
Aluminum, Brass, Bronze, Iron, Plastic, Stainless Steel, Steel
000000
0000000

1/16

"-

1/2

" (Increments of

1/64

")
29
__
__
Metal Case
Aluminum, Brass, Bronze, Iron, Plastic, Stainless Steel, Steel
000000
000000

Spiral Flute

1/16

"-

1/2

" (Increments of

1/32

")
15
Right Hand
Right Hand
Metal Case
Aluminum, Brass, Bronze, Iron, Plastic, Stainless Steel, Steel
0000000
000000