Reamer and Arbor
(Sold Separately)
Smooth and expand hole diameters that are 1 3/4" and larger with these reamers. Use a compatible arbor (sold separately) to mount them to your drill press or other machine. Also known as shell reamers.
For technical drawings and 3-D models, click on a part number.

Size

Dia.

Arbor
Hole


Dia.

Flute
Overall
Number
of
Flutes
Flute
Style
Cutting


Dia.


Tolerance
For
Use
On
Each
2 1/4"
2.2500"
1

1/4

"
2

7/8

"
3

3/4

"
14
Straight
-0.0002" to 0.0006"
Aluminum, Brass, Bronze, Hardened Steel, Iron, Stainless Steel, Steel, Tool Steel
0000000
0000000
Ratcheting Hand Reamers for Deburring Pipe and Conduit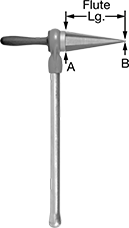 With Straight Flutes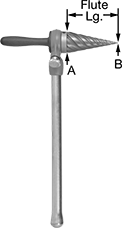 With Spiral Flutes
An extra-long ratcheting handle gives you leverage to smooth rough ends of pipe and conduit quicker than standard hand reamers. Use these reamers to enlarge holes and remove burrs prior to threading for fittings.
Spiral-flute reamers create a finer finish than those with straight flutes.
Reamer
Size

(A)

(B)

For Pipe
Size
Range
Flute
Reamer
Handle
Ratcheting
Handle
Number
of
Flutes
Spiral
Cut
For
Use
On
Each

Hardened Steel

Straight Flute

1/4

"-2

1/4

"
2.2500"
0.2500"

1/8

-2
6

3/8

"
6

5/8

"
16"
5
__
__
Aluminum, Brass, Bronze, Copper, Iron, Plastic, Stainless Steel, Steel
0000000
0000000

Spiral Flute

3/16

"-2

1/4

"
2.2500"
0.1875"

1/4

-2
5

1/8

"
6

7/8

"
16"
6
Right Hand
Right Hand
Aluminum, Brass, Bronze, Copper, Iron, Plastic, Stainless Steel, Steel
0000000
000000