Reamer Sets for
Taper-Pin

Holes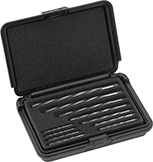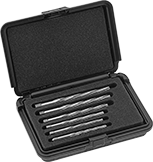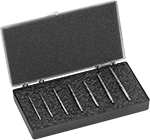 Hand turn these reamers with an adjustable wrench, straight-handle tap wrench, or pin vise (sold separately) to ream existing holes for standard taper pins.
Straight-flute reamers are for general purpose cutting.
Spiral-flute reamers have a left-hand spiral and a right-hand cut. They push chips downward as they cut, so they're often used in through holes. Spiral flutes create a smoother finish than straight flutes and work well in keyways and other applications with an interrupted cut.
For technical drawings and 3-D models, click on a part number.
Sizes
Included
Number
of
Pieces
Spiral
Cut
Container
Type
For
Use
On
Set

Straight Flute

0-10
11
__
__
Plastic Case
Aluminum, Brass, Bronze, Iron, Plastic, Stainless Steel, Steel
0000000
0000000
0-5
6
__
__
Plastic Case
Aluminum, Brass, Bronze, Iron, Plastic, Stainless Steel, Steel
0000000
000000

7/0

-0
7
__
__
Plastic Case
Aluminum, Brass, Bronze, Iron, Plastic, Stainless Steel, Steel
0000000
000000

Spiral Flute

0-10
11
Left Hand
Right Hand
Plastic Case
Aluminum, Brass, Bronze, Iron, Plastic, Stainless Steel, Steel
0000000
000000
0-5
6
Left Hand
Right Hand
Plastic Case
Aluminum, Brass, Bronze, Iron, Plastic, Stainless Steel, Steel
0000000
000000

7/0

-0
7
Left Hand
Right Hand
Plastic Case
Aluminum, Brass, Bronze, Iron, Plastic, Stainless Steel, Steel
0000000
000000