Recycled Plastic and Metal Composite Sheets
Color:

Gray
Maximum

Temperature:

230° F

Tensile

Strength:

Not Rated
Impact

Strength:

Not Rated

Hardness:

Not Rated
Yield

Strength:

Not Rated

For Use

Outdoors:

Yes
Made of recycled steel mill scale and reground plastic, these sheets are a sustainable, low-cost alternative to standard composites often used as counterweights, such as lead and steel. They are also the highest density product replacement to steel counterweights, although they're not as dense as steel. Use them in cabinets, appliances, vehicles, signage, and industrial equipment. With a low carbon footprint, these sheets can help you meet criteria for sustainability certifications, such as LEED and Envision, or comply with company environmental initiatives. They're extruded, so they won't create dust, unlike concrete.
Ribbed sheets can be sectioned off into 2 lb. pieces to serve specific applications.
For technical drawings and 3-D models, click on a part number.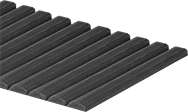 Ribbed Sheet
Thickness
Thickness
Tolerance
Magnetic
Properties

Weight,




lbs.

Each
0.7"
-0.05" to 0.05"
Magnetic
16
00000000
000000