How to

Identify and Measure Fittings
Pipe size is an industry designation, not the actual size. View information about how to measure threaded and unthreaded pipe and pipe fittings.
Vacuum Fittings for Steel Tubing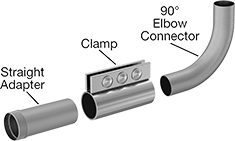 For Use

With:

Air,

Glass,

Plastic

Pellets,

Resins,

Wood Chips
Temperature

Range:

-10° to 180° F

Tubing:

Galvanized

Steel:

Use with

steel,

galvanized steel


Steel:

Use with steel
Use these fittings to create an air vacuum system without the hassle of brazing and welding. Insert two fittings into a clamp (sold separately) and tighten to form a secure seal.
Galvanized steel fittings have fair corrosion resistance. Fittings without a finish should only be used in noncorrosive environments.
For technical drawings and 3-D models, click on a part number.

For Tube
OD

(A)

For Tube
OD

(B)

Max.

Pressure

Max.

Vacuum
Each
Each
2

1/2

"
2

1/8

"
15 psi @ 72° F
15 in. of Hg @ 72° F
0000000
000000
0000000
000000
3"
2

1/8

"
15 psi @ 72° F
15 in. of Hg @ 72° F
0000000
00000
0000000
00000
3

1/2

"
2

1/8

"
15 psi @ 72° F
15 in. of Hg @ 72° F
0000000
00000
0000000
00000
3

1/2

"
2

1/2

"
15 psi @ 72° F
15 in. of Hg @ 72° F
00000000
00000
0000000
00000
4"
2

1/8

"
15 psi @ 72° F
15 in. of Hg @ 72° F
00000000
00000
0000000
00000
5"
2

1/8

"
15 psi @ 72° F
15 in. of Hg @ 72° F
00000000
000000
0000000
000000
6"
2

1/8

"
15 psi @ 72° F
15 in. of Hg @ 72° F
00000000
000000
0000000
000000