About
Flame-Resistant

Arc-Rated

Personal Protection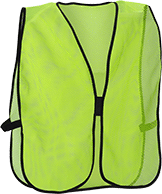 Not ANSI
Rated
(Expandable)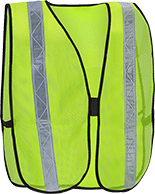 Not ANSI
Rated with Single Stripe
(Expandable)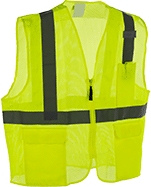 ANSI Class 2 with Single Stripe
(Standard)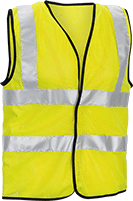 ANSI Class 2 with Double Stripe
(Standard)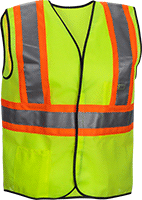 ANSI Class 2 with
Two-Tone
Single Stripe
(Standard)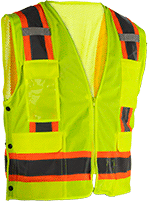 ANSI Class 2 with
Two-Tone
Single Stripe
(Expandable)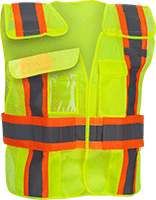 ANSI Class 2 with
Two-Tone
Single Stripe
(Breakaway and Expandable)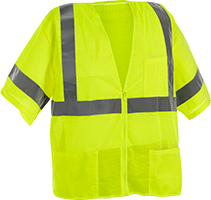 ANSI Class 3 with Single Stripe
(Standard with Sleeves)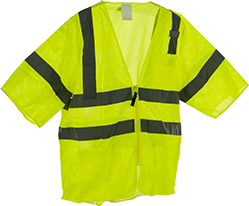 ANSI Class 3 with Double Stripe
(Standard with Sleeves)
ANSI Class 3 with
Two-Tone Single
Stripe
(Standard with Sleeves)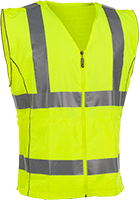 Women's
ANSI Class 2 with Double Stripe
(Standard)

Fluorescent Yellow
(Mesh)

Fluorescent Orange
(Mesh)

Fluorescent Yellow
(Solid)
Bright colors and reflective stripes make workers stand out in high-risk areas and where low-visibility is a concern. Made of polyester fabric, these vests are lightweight and moisture wicking to keep you cool.
ANSI/ISEA 107 rated vests are fluorescent yellow or orange and have 2" wide reflective stripes to meet high-visibility requirements. Class 2 vests meet visibility requirements for workers who are on or near roadways. Class 3 vests meet visibility requirements for workers in high-risk areas that need to be seen by traffic at a minimum distance of 1/4 of a mile.
Standard vests are a traditional, sleeveless style.
Expandable vests have elastic sides or adjustable side snaps that fit up to two sizes larger.
Vests that are breakaway and expandable have adjustable side straps to expand the sides, as well as hook and loop fasteners at the shoulders, sides, and front to tear away easily if caught on machinery.
Vests with sleeves resemble a t-shirt, providing more coverage for better visibility than standard vests.
Mesh vests provide better breathability than solid vests.
Women's vests have an adjustable waist strap for a more contoured fit.
Flame-

and

Arc-Flash-Protection

High-Visibility

Vests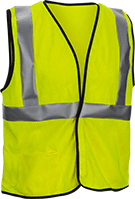 Fluorescent Yellow
(Mesh)
These vests meet NFPA 70E standards for protection against electrical arc flashes for personal protection equipment (PPE) category 1 and ANSI/ISEA 107 standards for high visibility. They are rated ANSI Class 2 for working on or near roadways. Check the PPE category and minimum arc rating provided for your workplace, and then select all required clothing and personal protective equipment to meet the minimum arc rating. Arc rating measures a garment's ability to insulate the wearer from burns; the higher the arc rating, the greater the flame resistance. These vests are mesh acrylic and are self-extinguishing. They are stitched with Nomex thread for added durability. They have hook and loop closures down the front and one waist pocket.
When measuring chest size, measure around the fullest part of your chest. Take all measurements over any clothing you expect to wear under these vests.
Size
Chest
Size
M
36"/38"
L
40"/42"
XL
44"/46"
2XL
48"/50"
3XL
52"/54"
4XL
56"/58"
5XL
60"/62"