About Gas Springs
Gas springs are typically used to assist in opening lids, covers, windows, conveyors, and seats—similar to a hatchback opening on a car.
Remote-Release

Gas Springs
Pair one of these gas springs with a release control to stop and release the gas spring anywhere along the stroke with the push of a button or lever. A valve on the rod end controls extension and compression and is operated with a release control (sold separately). Gas springs have a ball socket end fitting and ball stud on one end for mounting. The ball socket end fitting rotates in any direction on the ball stud to compensate for misalignment.
Release controls (sold separately) thread onto the rod end of the gas spring. They have an integral eyelet fitting for mounting the gas spring. Push-button release control requires an eyelet mounting bracket (not included) to mount the gas spring. Lever release control requires a bolt or pin (not included) to mount the gas spring.
For technical drawings and 3-D models, click on a part number.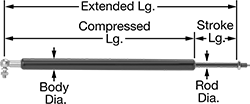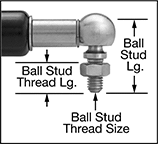 Extended


Lg.

Compressed


Lg.

Stroke


Lg.

Max.


Cycles
per Minute
Lockable
Body


Dia.

Dia.

Thread
Size

Removable
End
Fittings
End
Thread
Size

Lg.

Thread


Lg.

Thread
Size

Temperature


Range,




° F

Extension


Force,




lbs.

Each

Steel Body and Rod

12.2"
8.26"
3.94"
8
Yes
0.87"
0.39"
M10

Yes
M8

1.42"
0.65"
M8

-22° to 176°
000000
000000
15.94"
10.03"
5.91"
2
Yes
0.87"
0.39"
M10

Yes
M8

1.42"
0.65"
M8

-22° to 176°
000000
000000
19.88"
12.01"
7.87"
4
Yes
0.87"
0.39"
M10

Yes
M8

1.42"
0.65"
M8

-22° to 176°
000000
000000
23.82"
13.82"
10"
3
Yes
0.87"
0.39"
M10

Yes
M8

1.42"
0.65"
M8

-22° to 176°
000000
000000
28.15"
16.15"
12"
2
Yes
0.87"
0.39"
M10

Yes
M8

1.42"
0.65"
M8

-22° to 176°
000000
000000
44.29"
24.29"
20"
1
Yes
0.87"
0.39"
M10

Yes
M8

1.42"
0.65"
M8

-22° to 176°
000000
000000