Dust Mask Dispensers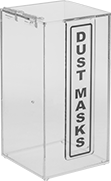 Mount this dispenser on the wall to stock up to 40 masks.
For Number
of Masks

Ht.

Wd.

Dp.

Material

Dia.

No.


of
Mounting
Fasteners Included
Each
40
12

1/2

"
6"
6"
Acrylic Plastic

3/8

"
2
No
00000000
0000000
Metal-

and

X-Ray-Detectable

Disposable Mask Dispensers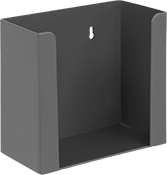 Organize and access masks safely near your line in food and pharmaceutical plants. Made with metal and chemical additives, these dispensers set off metal detectors and X-rays if any part falls into your line, so a contaminated batch won't leave your facility. This helps you comply with Hazard Analysis and Critical Control Point (HACCP) programs for food safety. Their bright blue color makes them easy to spot and retrieve. FDA compliant, they're also safe to touch food.
These dispensers hold masks that are 4 1/4" ht. × 8 1/4" wd. or smaller.
For
Number
of Masks
Height
Width
Depth
Material
Diameter
Number
of
Mounting
Fasteners
Included
Specifications
Met
Each
75
7

7/8

"
8

1/4

"
4

1/4

"
Polyolefin Plastic
1

3/4

"
2
No
FDA Compliant 21 CFR 177.1520, FDA Compliant 21 CFR 178.2010
0000000
000000
Personal Protection and Sanitizing Stations
Promote safe social-health practices and prevent the spread of illness by making it easy to access tissues, hand sanitizer, and other sanitary items. These stations are used in public spaces such as waiting areas, offices, and lobbies. All have space to hold two boxes of tissues or disposable gloves. They have holes for mounting them to a wall permanently. To position them temporarily without mounting, they have a flat base for sitting on a counter or other flat surface. These stations do not come with any face masks, gloves, tissues, or sanitizers.
Stations with one face mask compartment hold two boxes of disposable face masks; they cannot dispense loose masks properly. Stations with two face mask compartments hold two boxes of disposable face masks or dispense bulk loads of loose masks that don't come in a box.
Stations with a hinged locking lid keep supplies secure, but reloading them is still easy. They also have mounting holes for adding a wall-mountable hand sanitizer dispenser instead of a freestanding bottle. If the mounting holes on your dispenser don't line up, use mounting tape to attach it. To prevent stray drips of hand sanitizer from falling on floors and counters, they have a drip tray.
Brown woodgrain and black stations look less clinical than beige stations, so they're good for locations where aesthetics are important, such as lobbies and offices.
Plastic stations weigh less and are more portable than steel ones.
Steel stations last longer than plastic stations because they're more durable and impact resistant. They're also unaffected by extreme temperatures. All are power coated for corrosion resistance, meaning they won't rust or deteriorate over time.
Use optional sign holders to display your own message and increase the station's visibility.
Add optional floor stands to position stations in the center of rooms, in entryways, and in other spots where mounting to a wall isn't convenient.