External Retaining Ring Assortments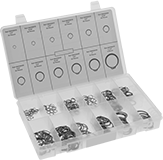 Pull these rings open with retaining ring pliers, pass over the end of a shaft, and release to spring into a groove. All are magnetic.
Steel retaining rings are an economical choice with good strength. A black-phosphate finish is mildly corrosion resistant in dry environments. In wet environments, zinc yellow-chromate plated finishes have some corrosion resistance, and zinc-chromate plated finishes have good corrosion resistance.
15-7 PH stainless steel retaining rings have high strength with good corrosion resistance.
DIN 1.4122 stainless steel retaining rings withstand wear caused by abrasion, similar to 400 series stainless steel.
Number
of Pieces
Sizes Included
Container
Type
Specifications
Met
Each

Inch

300
For

1/4

" to 1

1/4

" OD
Plastic Box
__
000000000
000000
620
For

1/8

" to 3" OD
Plastic Box
__
000000000
00000

Zinc

Yellow-Chromate

Plated Steel

300
For

1/4

" to 1

1/4

" OD
Plastic Box
__
000000000
00000
620
For

1/8

" to 3" OD
Plastic Box
__
000000000
000000
195
For

1/4

" to 1

1/4

" OD
Plastic Box
__
000000000
000000
218
For

1/4

" to 3" OD
Plastic Box
__
000000000
000000

Metric

240
For 5 mm to 24 mm OD
Plastic Box
DIN 471
000000000
000000
460
For 3 mm to 60 mm OD
Plastic Box
DIN 471
000000000
000000

Zinc-Chromate

Plated Steel

240
For 5 mm to 24 mm OD
Plastic Box
DIN 471
000000000
00000
440
For 5 mm to 60 mm OD
Plastic Box
DIN 471
000000000
000000

DIN

1.4122

Stainless Steel

180
For 5 mm to 24 mm OD
Plastic Box
DIN 471
000000000
000000