About Installing Blind Rivets
18-8

Stainless Steel Domed Head Blind Rivets

Installed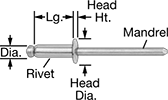 Made from 18-8 stainless steel, these blind rivets create a strong hold even in wet and damp areas. The domed head gives your project a finished appearance.
Use these blind rivets to fasten hinges, shelves, or other assemblies where you can only access one side. You can also use them to join materials that are difficult to weld or solder. The back of the rivet deforms during installation, so it creates a permanent hold that won't loosen from vibration. It also means you can't overtighten or strip them.
To install these rivets, you'll need a blind rivet tool (sold separately). Be sure to pick a tool that's compatible with your rivet's diameter and material. For more information on installing rivets, see About Installing Blind Rivets.
Blind rivets that meet ISO 15983 (formerly DIN 7337) comply with international standards for blind rivet dimensions. Those that meet IFI 114 comply with industry standards.
For technical drawings and 3-D models, click on a part number.
For
Material


Thick.

Lg.

For
Hole
Size
For
Drill
Bit Size
Head


Dia.

Head


Ht.

Shear


Strength,




lbs.

Tensile


Strength,




lbs.

Specifications
Met

Pkg.




Qty.

Pkg.

0.02"-0.125"
0.25"
0.097"-0.1"
No. 41
0.198"
0.032"
230
280
IFI 114 Standards
100
000000000
000000
0.126"-0.25"
0.375"
0.097"-0.1"
No. 41
0.198"
0.032"
230
280
IFI 114 Standards
100
000000000
00000
0.02"-0.062"
0.212"
0.129"-0.133"
No. 30
0.262"
0.04"
420
530
IFI 114 Standards
100
000000000
00000
0.063"-0.125"
0.29"
0.129"-0.133"
No. 30
0.262"
0.036"
420
530
IFI 114 Standards
100
000000000
00000
0.126"-0.187"
0.352"
0.129"-0.133"
No. 30
0.262"
0.036"
420
530
IFI 114 Standards
100
000000000
00000
0.188"-0.25"
0.4"
0.129"-0.133"
No. 30
0.262"
0.04"
420
530
IFI 114 Standards
100
000000000
00000
0.251"-0.312"
0.462"
0.129"-0.133"
No. 30
0.262"
0.04"
420
530
IFI 114 Standards
100
000000000
00000
0.313"-0.375"
0.5"
0.129"-0.133"
No. 30
0.262"
0.036"
420
530
IFI 114 Standards
100
000000000
00000
0.376"-0.5"
0.65"
0.129"-0.133"
No. 30
0.262"
0.04"
420
530
IFI 114 Standards
50
000000000
0000
0.501"-0.625"
0.775"
0.129"-0.133"
No. 30
0.262"
0.04"
420
530
IFI 114 Standards
50
000000000
0000
0.063"-0.125"
0.275"
0.16"-0.164"
No. 20
0.328"
0.043"
650
820
IFI 114 Standards
100
000000000
00000
0.126"-0.187"
0.362"
0.16"-0.164"
No. 20
0.328"
0.05"
650
820
IFI 114 Standards
50
000000000
0000
0.188"-0.25"
0.4"
0.16"-0.164"
No. 20
0.328"
0.043"
650
820
IFI 114 Standards
50
000000000
0000
0.251"-0.375"
0.525"
0.16"-0.164"
No. 20
0.328"
0.043"
650
820
IFI 114 Standards
50
000000000
00000
0.376"-0.5"
0.675"
0.16"-0.164"
No. 20
0.328"
0.05"
650
820
IFI 114 Standards
50
000000000
0000
0.063"-0.125"
0.3"
0.192"-0.196"
No. 11
0.393"
0.051"
950
1,200
IFI 114 Standards
50
000000000
00000
0.126"-0.25"
0.425"
0.192"-0.196"
No. 11
0.393"
0.051"
950
1,200
IFI 114 Standards
50
000000000
00000
0.251"-0.375"
0.55"
0.192"-0.196"
No. 11
0.393"
0.051"
950
1,200
IFI 114 Standards
50
000000000
00000
0.376"-0.5"
0.7"
0.192"-0.196"
No. 11
0.394"
0.06"
950
1,200
IFI 114 Standards
50
000000000
00000
0.501"-0.625"
0.825"
0.192"-0.196"
No. 11
0.394"
0.06"
950
1,200
IFI 114 Standards
25
000000000
0000
0.626"-0.75"
0.95"
0.192"-0.196"
No. 11
0.394"
0.06"
950
1,200
IFI 114 Standards
25
000000000
0000
0.751"-0.875"
1.075"
0.192"-0.196"
No. 11
0.375"
0.053"
950
1,200
IFI 114 Standards
25
000000000
00000
0.876"-1"
1.2"
0.192"-0.196"
No. 11
0.375"
0.053"
950
1,200
IFI 114 Standards
25
000000000
00000
0.126"-0.25"
0.5"
0.257"-0.261"
F
0.525"
0.08"
1,700
2,100
IFI 114 Standards
10
000000000
0000
0.251"-0.375"
0.625"
0.257"-0.261"
F
0.525"
0.08"
1,700
2,100
IFI 114 Standards
10
000000000
0000
0.376"-0.5"
0.75"
0.257"-0.261"
F
0.525"
0.08"
1,700
2,100
IFI 114 Standards
10
000000000
0000
0.501"-0.625"
0.875"
0.257"-0.261"
F
0.525"
0.08"
1,700
2,100
IFI 114 Standards
5
000000000
0000
0.626"-0.75"
1"
0.257"-0.261"
F
0.525"
0.08"
1,700
2,100
IFI 114 Standards
5
000000000
0000
0.876"-1"
1.25"
0.257"-0.261"
F
0.525"
0.08"
1,700
2,100
IFI 114 Standards
5
000000000
0000
For Material


Thick.,

mm

Lg.,


mm
For Hole


Size,

mm
For Drill Bit


Size,

mm
Head


Dia.,


mm
Head


Ht.,


mm
Shear


Strength,




lbs.

Tensile


Strength,




lbs.

Specifications
Met

Pkg.




Qty.

Pkg.

1-3
6
3.1-3.2
3
6.5
0.8
350
440
DIN 7337, ISO 15983
50
000000000
000000
3-5
8
3.1-3.2
3
6.5
0.8
350
440
DIN 7337, ISO 15983
50
000000000
00000
5.5-7
10
3.1-3.2
3
6.5
0.8
350
440
DIN 7337, ISO 15983
25
000000000
0000
7-9
12
3.1-3.2
3
6.5
0.8
350
440
DIN 7337, ISO 15983
25
000000000
0000
9-11
14
3.1-3.2
3
6.5
0.8
350
440
DIN 7337, ISO 15983
10
000000000
00000
11-13
16
3.1-3.2
3
6.5
0.8
350
440
DIN 7337, ISO 15983
25
000000000
00000
1-3
6
3.3-3.4
3.2
6.5
0.8
400
510
DIN 7337, ISO 15983
25
000000000
0000
3-5
8
3.3-3.4
3.2
6.5
0.8
400
510
DIN 7337, ISO 15983
25
000000000
0000
5.5-7
10
3.3-3.4
3.2
6.5
0.8
400
510
DIN 7337, ISO 15983
25
000000000
0000
7-9
12
3.3-3.4
3.2
6.5
0.8
400
510
DIN 7337, ISO 15983
25
000000000
00000
9-11
14
3.3-3.4
3.2
6.5
0.8
400
510
DIN 7337, ISO 15983
25
000000000
00000
11-13
16
3.3-3.4
3.2
6.5
0.8
400
510
DIN 7337, ISO 15983
10
000000000
0000
1-2.5
6
4.1-4.2
4
8
1
560
780
DIN 7337, ISO 15983
25
000000000
00000
2.5-4.5
8
4.1-4.2
4
8
1
560
780
DIN 7337, ISO 15983
25
000000000
00000
4.5-6.5
10
4.1-4.2
4
8
1
560
780
DIN 7337, ISO 15983
25
000000000
0000
6.5-8.5
12
4.1-4.2
4
8
1
560
780
DIN 7337, ISO 15983
25
000000000
00000
8.5-10.5
14
4.1-4.2
4
8
1
560
780
DIN 7337, ISO 15983
10
000000000
0000
8.5-12
16
4.1-4.2
4
8
1
560
780
DIN 7337, ISO 15983
25
000000000
00000
12-16
20
4.1-4.2
4
8
1
560
780
DIN 7337, ISO 15983
10
000000000
0000
16-21
25
4.1-4.2
4
8
1
560
780
DIN 7337, ISO 15983
10
000000000
00000
2-4
8
4.9-5
4.8
9.5
1.1
850
1,010
DIN 7337, ISO 15983
10
000000000
0000
4-6
10
4.9-5
4.8
9.5
1.1
850
1,010
DIN 7337, ISO 15983
25
000000000
00000
6-8
12
4.9-5
4.8
9.5
1.1
850
1,010
DIN 7337, ISO 15983
10
000000000
0000
8-10
14
4.9-5
4.8
9.5
1.1
850
1,010
DIN 7337, ISO 15983
25
000000000
00000
8-11
16
4.9-5
4.8
9.5
1.1
850
1,010
DIN 7337, ISO 15983
10
000000000
0000
11-15
20
4.9-5
4.8
9.5
1.1
850
1,010
DIN 7337, ISO 15983
10
000000000
0000
2-4
8
5.1-5.2
5
9.5
1.1
940
1,120
DIN 7337, ISO 15983
10
000000000
0000
4-6
10
5.1-5.2
5
9.5
1.1
940
1,120
DIN 7337, ISO 15983
10
000000000
0000
6-8
12
5.1-5.2
5
9.5
1.1
940
1,120
DIN 7337, ISO 15983
10
000000000
0000
8-10
14
5.1-5.2
5
9.5
1.1
940
1,120
DIN 7337, ISO 15983
10
000000000
0000
8-11
16
5.1-5.2
5
9.5
1.1
940
1,120
DIN 7337, ISO 15983
10
000000000
0000
11-15
20
5.1-5.2
5
9.5
1.1
940
1,120
DIN 7337, ISO 15983
10
000000000
00000
15-20
25
5.1-5.2
5
9.5
1.1
940
1,120
DIN 7337, ISO 15983
10
000000000
00000
20-25
30
5.1-5.2
5
9.5
1.1
940
1,120
DIN 7337, ISO 15983
5
000000000
0000
25-30
35
5.1-5.2
5
9.5
1.1
940
1,120
DIN 7337, ISO 15983
5
000000000
00000
30-35
40
5.1-5.2
5
9.5
1.1
940
1,120
DIN 7337, ISO 15983
1
000000000
0000