About Installing Blind Rivets
Blind Rivets for Soft Materials

Installed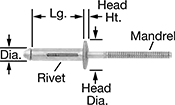 The rivet body deforms into a bulb shape when installed to provide a wide, uniform grip and secure hold when fastening plastic and laminates. They join material when you only have access to one side. A low-profile domed head creates a finished appearance.
Aluminum rivets are lightweight, nonmagnetic, and have good corrosion resistance.
Steel rivets are strong and durable, but are more likely to rust than aluminum rivets.
The combined thickness of material must fall within the rivet's material thickness range. Shear strength is the amount of force it takes to break a rivet from the side, and tensile strength is the amount of pull a rivet can withstand without breaking. Joint strength is also affected by rivet spacing and hole size.
A blind rivet tool (sold separately) with a nosepiece that matches the rivet's diameter is required for installation.
For technical drawings and 3-D models, click on a part number.
For
Material


Thick.

Lg.

For
Hole
Size
For
Drill
Bit Size
Head


Dia.

Head


Ht.

Shear


Strength,




lbs.

Tensile


Strength,




lbs.

Material

Pkg.




Qty.

Pkg.

0.02"-0.275"
0.74"
0.13"-0.138"
3.5 mm
0.26"
0.039"
110
170
5052 Aluminum
50
000000000
00000
0.125"-0.375"
0.96"
0.13"-0.138"
3.5 mm
0.315"
0.032"
110
170
5052 Aluminum
50
000000000
0000
0.039"-0.118"
0.535"
0.16"-0.164"
No. 20
0.315"
0.055"
130
220
5052 Aluminum
25
000000000
0000
0.04"-0.275"
0.84"
0.165"-0.177"
No. 16
0.321"
0.06"
130
220
5754 Aluminum
50
000000000
0000
0.04"-0.335"
0.9"
0.165"-0.177"
No. 16
0.321"
0.06"
130
220
5754 Aluminum
10
000000000
0000
0.197"-0.472"
1.087"
0.165"-0.177"
No. 16
0.321"
0.06"
130
220
5754 Aluminum
50
000000000
0000
0.039"-0.157"
0.684"
0.196"-0.209"
No. 3
0.386"
0.062"
350
450
Steel
25
000000000
00000
0.039"-0.354"
0.906"
0.196"-0.209"
No. 3
0.386"
0.062"
350
450
Steel
25
000000000
00000
0.04"-0.157"
0.72"
0.197"-0.207"
No. 4
0.396"
0.08"
170
240
5052 Aluminum
50
000000000
0000
0.04"-0.354"
0.92"
0.197"-0.207"
No. 4
0.396"
0.08"
170
240
5052 Aluminum
50
000000000
00000
0.157"-0.472"
1.07"
0.196"-0.209"
No. 3
0.386"
0.062"
350
450
Steel
25
000000000
00000
0.157"-0.472"
1.07"
0.197"-0.207"
No. 4
0.396"
0.08"
170
240
5052 Aluminum
50
000000000
00000
0.157"-0.625"
1.2"
0.197"-0.207"
No. 4
0.396"
0.08"
170
240
5052 Aluminum
25
000000000
0000