Tools for Hollow Rivets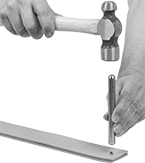 One of these tools and a hammer are all you need to expand the base of hollow (tubular) and hollow-end (semi-tubular) rivets. Place the tool over the hollow end of the rivet, then strike with a hammer. The rivet's end will flare out to fasten your material.
For technical drawings and 3-D models, click on a part number.
For Rivet


Dia.

For Rivet Material

Dia.

Lg.

Material
Each

5/16

"
Aluminum, Steel, Copper, Brass

5/8

"
5"
Steel
000000
000000
Replacement Parts for
Air-Powered

Hammers

Dia.

For
Manufacturer
For
Manufacturer
Model Number
Material
Each

5/8

"
Superior Pneumatic
40000, 40005, 60010, 60012, 80010, 80012, 84982, 240001, 250201, 250202
Plastic
00000000
00000