Robot Tool Extensions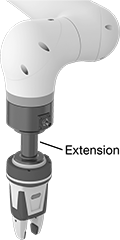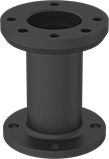 Black Acetal Plastic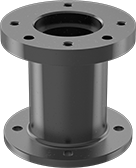 Black Anodized Aluminum

Extend the reach of your robot arm, so it can access the full width of a conveyor or the bottom of deep containers. These extensions use standard ISO mounting patterns, so they're compatible with most robot arms and tools, such as those made by Universal Robots (UR) and FANUC. Select an extension with an ISO mounting pattern that matches your arm and tool, or use a robot tool mount (sold separately) to adapt to a different pattern. They include mounting hardware to connect them to your robot arm, but don't have hardware to connect to tools. If you don't see your robot model number listed, measure the bolt circle diameter to determine mounting compatibility.
These extensions are lightweight, corrosion resistant, and strong. They're also machinable, so you can modify them to mount to custom patterns. Acetal is lighter and less rigid than aluminum, so it's used for shorter extensions. Aluminum is heavier and more rigid than acetal. It's used for longer extensions, since it's stiff enough to keep your tool from wobbling as the arm moves.
For technical drawings and 3-D models, click on a part number.
End of Robot Arm

(Bolt On)

Lg.,


mm

OD,


mm

Max.


Load


Cap.

Wt.

Bolt Circle

Dia.




(Mount.

Hole
Pattern

Compatibility)

Mount.


Fasteners
Included
Bolt Circle

Dia.




(Mount.

Hole
Pattern

Compatibility)

Mount.


Fasteners
Included
Bolt Hole
Thread
Size

(No. of)

For Robot Arm
Manufacturer


(Series/Model Number)

Each

Black Acetal Plastic

25
63
110 lbs./ 50 kg
0.25 lbs./ 0.11 kg
50 mm (ISO 50)
Yes
50 mm (ISO 50)
No
M6 × 1 mm (4)
ABB (IRB 2400; IRB 2600)
FANUC (CRX 10iA, 10iA/L)
Universal Robots (UR3; UR3e; UR5;
UR5e; UR10; UR10e; UR16; UR16e)
Omron (TM 5, 12, 14)
Staubli (TX2 90)
Productive Robotics (OB7)
0000000
0000000
35
63
110 lbs./ 50 kg
0.18 lbs./ 0.08 kg
50 mm (ISO 50)
Yes
50 mm (ISO 50)
No
M6 × 1 mm (4)
ABB (IRB 2400; IRB 2600)
FANUC (CRX 10iA, 10iA/L)
Universal Robots (UR3; UR3e; UR5;
UR5e; UR10; UR10e; UR16; UR16e)
Omron (TM 5, 12, 14)
Staubli (TX2 90)
Productive Robotics (OB7)
0000000
000000
50
63
110 lbs./ 50 kg
0.2 lbs./ 0.09 kg
50 mm (ISO 50)
Yes
50 mm (ISO 50)
No
M6 × 1 mm (4)
ABB (IRB 2400; IRB 2600)
FANUC (CRX 10iA, 10iA/L)
Universal Robots (UR3; UR3e; UR5;
UR5e; UR10; UR10e; UR16; UR16e)
Omron (TM 5, 12, 14)
Staubli (TX2 90)
Productive Robotics (OB7)
0000000
000000
75
63
110 lbs./ 50 kg
0.25 lbs./ 0.11 kg
50 mm (ISO 50)
Yes
50 mm (ISO 50)
No
M6 × 1 mm (4)
ABB (IRB 2400; IRB 2600)
FANUC (CRX 10iA, 10iA/L)
Universal Robots (UR3; UR3e; UR5;
UR5e; UR10; UR10e; UR16; UR16e)
Omron (TM 5, 12, 14)
Staubli (TX2 90)
Productive Robotics (OB7)
000000
000000

Black Anodized Aluminum

25
80
110 lbs./ 50 kg
0.57 lbs./ 0.26 kg
63 mm (ISO 63)
Yes
63 mm (ISO 63)
No
M6 × 1 mm (4)
ABB (IRB 1520ID)
Yaskawa/Motoman (HC 10T;
SIA 10D, 10F)
0000000
000000
35
80
110 lbs./ 50 kg
0.46 lbs./ 0.21 kg
63 mm (ISO 63)
Yes
63 mm (ISO 63)
No
M6 × 1 mm (4)
ABB (IRB 1520ID)
Yaskawa/Motoman (HC 10T;
SIA 10D, 10F)
0000000
000000
50
80
110 lbs./ 50 kg
0.53 lbs./ 0.24 kg
63 mm (ISO 63)
Yes
63 mm (ISO 63)
No
M6 × 1 mm (4)
ABB (IRB 1520ID)
Yaskawa/Motoman (HC 10T;
SIA 10D, 10F)
0000000
000000
75
80
110 lbs./ 50 kg
0.66 lbs./ 0.3 kg
63 mm (ISO 63)
Yes
63 mm (ISO 63)
No
M6 × 1 mm (4)
ABB (IRB 1520ID)
Yaskawa/Motoman (HC 10T;
SIA 10D, 10F)
0000000
000000
100
63
110 lbs./ 50 kg
0.27 lbs./ 0.12 kg
50 mm (ISO 50)
Yes
50 mm (ISO 50)
No
M6 × 1 mm (4)
ABB (IRB 2400; IRB 2600)
FANUC (CRX 10iA, 10iA/L)
Universal Robots (UR3; UR3e; UR5;
UR5e; UR10; UR10e; UR16; UR16e)
Omron (TM 5, 12, 14)
Staubli (TX2 90)
Productive Robotics (OB7)
0000000
000000
100
80
110 lbs./ 50 kg
0.79 lbs./ 0.36 kg
63 mm (ISO 63)
Yes
63 mm (ISO 63)
No
M6 × 1 mm (4)
ABB (IRB 1520ID)
Yaskawa/Motoman (HC 10T;
SIA 10D, 10F)
0000000
000000
150
63
110 lbs./ 50 kg
0.31 lbs./ 0.14 kg
50 mm (ISO 50)
Yes
50 mm (ISO 50)
No
M6 × 1 mm (4)
ABB (IRB 2400; IRB 2600)
FANUC (CRX 10iA, 10iA/L)
Universal Robots (UR3; UR3e; UR5;
UR5e; UR10; UR10e; UR16; UR16e)
Omron (TM 5, 12, 14)
Staubli (TX2 90)
Productive Robotics (OB7)
0000000
000000
150
80
110 lbs./ 50 kg
1 lbs./ 0.47 kg
63 mm (ISO 63)
Yes
63 mm (ISO 63)
No
M6 × 1 mm (4)
ABB (IRB 1520ID)
Yaskawa/Motoman (HC 10T;
SIA 10D, 10F)
0000000
000000