High-Temperature

Ultra-Dense

Tungsten Rods

Maximum

Temperature:

2,300° F

Yield

Strength:

Not Rated

Hardness:

Rockwell C35

(Hard)

Temper

Rating:

Not Rated
Ultra dense for use as electrodes, furnace support pillars, and screws and bolts, these chemically pure tungsten rods withstand greater heat than other high-temperature metal, such as molybdenum. You can also use them in applications where voltage increases may cause temperature spikes that other metal can't handle. These rods won't deform in high heat, so they last longer than other metal. However, they're harder to machine than more ductile tungsten alloys. These rods won't corrode from chemicals or weather.
For technical drawings and 3-D models, click on a part number.

Certificates with a traceable lot number are available for these products. Download certificates from ORDER HISTORY after your order ships.
Chemical-Resistant

Slippery PTFE Rods and Discs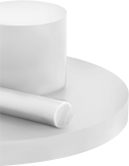 Color:

White
Temperature

Range:

See table
Tensile

Strength:

See table

(Poor)

Impact

Strength:

3.

5

ft.

-

lbs./in.

(Good)

Hardness:

See table

(Medium

Soft)

For Use

Outdoors:

Yes
Specifications

Met:

See table
These rods and discs are made of PTFE, a material that surpasses most plastics when it comes to chemical resistance and performance in extreme temperatures. In addition to resisting most solvents, they are an excellent electrical insulator. They are easy to machine and have a naturally slippery surface that makes them a good choice for bearings, gears, and parts that slide and roll.
For technical drawings and 3-D models, click on a part number.