Chemical-Resistant

Slippery PTFE Rods and Discs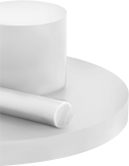 Color:

White
Temperature

Range:

See table
Tensile

Strength:

See table

(Poor)

Impact

Strength:

3.

5

ft.

-

lbs./in.

(Good)

Hardness:

See table

(Medium

Soft)

For Use

Outdoors:

Yes
Specifications

Met:

See table
These rods and discs are made of PTFE, a material that surpasses most plastics when it comes to chemical resistance and performance in extreme temperatures. In addition to resisting most solvents, they are an excellent electrical insulator. They are easy to machine and have a naturally slippery surface that makes them a good choice for bearings, gears, and parts that slide and roll.
For technical drawings and 3-D models, click on a part number.
Ultra-Strength

Lightweight Carbon Fiber Half Rounds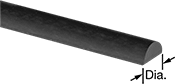 Color:

Black
Temperature

Range:

0° F

to

250° F

Tensile

Strength:

120,000-175,

000 psi

(Excellent)

Fiber Tensile

Stiffness:

Standard

(33-36

msi)

Impact

Strength:

Not Rated

Hardness:

Not Rated

For Use

Outdoors:

No
Mount these lightweight half rounds on flat surfaces to reinforce frames and structures. Carbon fiber is often used in place of aluminum because it weighs less but is almost as rigid. These half rounds have fibers that run in one direction, making them strongest in the direction of the fibers. They resist bending across the fibers but will splinter and separate like string cheese when bent along the length of the fiber. Carbon fiber is known for its use in the aerospace industry where a balance of weight and strength is critical.
For technical drawings and 3-D models, click on a part number.