Ball Splines and Bearings
Create a compact linear and rotary motion system for applications requiring complex, fast movements, such as robotics. The grooves on the ball splines transmit rotary power as ball bearings move smoothly and precisely along their length, even at high speeds.
Ball splines are alloy steel for high strength and wear resistance. They're hardened on the outside for additional wear resistance while the center is soft enough to absorb stress from shifting loads. Those with a step-down end have a shoulder near the end to stop gears, sprockets, and bearings.
Bearings have a retaining ring groove, so they can be positioned in your system with a retaining ring (not included). Bearings with a keyway include a machine key for attaching your load. Flanged bearings have a surface with mounting holes for attaching your load.

Splined
End ×
Step-Down
End

Four Splines

Dia.,


mm

Dia.




Tolerance,


mm

Lg.,


mm

Lg.




Tolerance,


mm

Lg.,


mm

No.


of
Root


Dia.,


mm

Dia.,


mm

Dia.




Tolerance,


mm

Lg.,


mm
Surface


Smoothness,


microinch
Edge
Type
Hardness
Rating
Hardness
Heat
Treatment
Each

Splined End ×

Step-Down

End

18.2
-0.021 to 0
350
-0.7874 to 0.7874
200
4
16.4
15
-0.018 to 0
150
16
Chamfered
Very Hard
Rockwell C60
Case Hardened
00000000
0000000

For
Spline


Dia.,

mm
For

No.


of
Splines
Overall


Lg.,


mm

OD,


mm
Bearing
Ball
Dynamic
Load


Cap.,

lbs.

Max.

Dynamic


Torque,




in.-lbs.

With
Retaining
Ring Grooves
Includes

Dp.,


mm

Lg.,


mm

Wd.,


mm
Each
18.2
4
60
32
Steel
Steel
1,750
734
Yes
Machine Key
2.5
26
4
00000000
0000000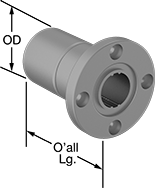 For
Spline


Dia.,

mm
For

No.


of
Splines
Overall


Lg.,


mm
Flange


OD,


mm

OD,


mm
Bearing
Ball
Dynamic
Load


Cap.,

lbs.

Max.

Dynamic


Torque,




in.-lbs.

With
Retaining
Ring Grooves

No.


of
Thread
Size

Each
18.2
4
60
51
32
Steel
Steel
1,750
734
Yes
4
M4 × 0.7 mm
00000000
0000000