Keyed Rotary Shafts
Combine these shafts with a machine key (not included) to transmit torque to gears, sprockets, and other power transmission components. All have an ANSI standard keyway (keys not included; see our selection of key stock). Their edges are chamfered to remove sharp corners, reducing damage to bearings, housings, and other components during installation. All are turned, ground, and polished to tight diameter and straightness tolerances.
Steel shafts are generally stronger than aluminum and stainless steel shafts but not as corrosion resistant. 1045 carbon steel shafts balance high strength and good machinability, making them ideal for general purpose use. Stainless steel shafts are more corrosion resistant than steel shafts but also more difficult to machine. 303 and 304 stainless steel shafts have good corrosion resistance. 303 stainless steel shafts are annealed, which makes them softer than 304 stainless steel shafts but more corrosion resistant. 316 stainless steel shafts have excellent corrosion resistance.
For technical drawings and 3-D models, click on a part number.

Fully Keyed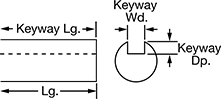 Lg.

Lg.

Wd.

Dp.

ANSI Keys
Included
Edge Type
Yield


Strength,

psi

Each

Inch—

1045 Carbon Steel

(Rockwell B95)

3"
3"
0.625"
0.313"
No
Chamfered
75,000
00000000
000000
6"
6"
0.625"
0.313"
No
Chamfered
75,000
00000000
00000
9"
9"
0.625"
0.313"
No
Chamfered
75,000
00000000
00000
12"
12"
0.625"
0.313"
No
Chamfered
75,000
00000000
00000
18"
18"
0.625"
0.313"
No
Chamfered
75,000
00000000
000000
24"
24"
0.625"
0.313"
No
Chamfered
75,000
00000000
000000
36"
36"
0.625"
0.313"
No
Chamfered
75,000
00000000
000000
48"
48"
0.625"
0.313"
No
Chamfered
75,000
00000000
000000
60"
60"
0.625"
0.313"
No
Chamfered
75,000
00000000
000000
72"
72"
0.625"
0.313"
No
Chamfered
75,000
00000000
000000

Inch—

304 Stainless Steel

(Rockwell B85)

3"
3"
0.625"
0.313"
No
Chamfered
30,000
0000000
00000
6"
6"
0.625"
0.313"
No
Chamfered
30,000
0000000
000000
9"
9"
0.625"
0.313"
No
Chamfered
30,000
0000000
000000
12"
12"
0.625"
0.313"
No
Chamfered
30,000
0000000
000000
24"
24"
0.625"
0.313"
No
Chamfered
30,000
0000000
000000
36"
36"
0.625"
0.313"
No
Chamfered
30,000
0000000
000000
48"
48"
0.625"
0.313"
No
Chamfered
30,000
0000000
00000000
60"
60"
0.625"
0.313"
No
Chamfered
30,000
0000000
00000000
72"
72"
0.625"
0.313"
No
Chamfered
30,000
00000000
00000000

Inch—

316 Stainless Steel

(Rockwell B85)

3"
3"
0.625"
0.313"
No
Chamfered
30,000
0000000
00000
6"
6"
0.625"
0.313"
No
Chamfered
30,000
0000000
000000
9"
9"
0.625"
0.313"
No
Chamfered
30,000
0000000
000000
12"
12"
0.625"
0.313"
No
Chamfered
30,000
0000000
000000
24"
24"
0.625"
0.313"
No
Chamfered
30,000
0000000
000000
36"
36"
0.625"
0.313"
No
Chamfered
30,000
0000000
00000000
48"
48"
0.625"
0.313"
No
Chamfered
30,000
0000000
00000000
60"
60"
0.625"
0.313"
No
Chamfered
30,000
0000000
00000000
72"
72"
0.625"
0.313"
No
Chamfered
30,000
00000000
00000000