Selecting Compatible Lead Screws and Nuts
Splined Shafts for Rotary and Linear Motion

Splined
End ×
Step-Down
End
Grooves on the surface of these shafts transmit rotary power while allowing bearings to move freely along the length of the shaft. The edges are chamfered to remove sharp corners, reducing damage to bearings, housings, and other components during installation. All are turned, ground, and polished to tight diameter and straightness tolerances.
Four Splines
Shafts with four splines work with ball spline bearings, which create relatively little friction. They're commonly found in robotic and other automated systems that require complex, fast movements. They don't transmit as much torque as shafts with six splines.
All four-spline shafts are 52100 alloy steel for high strength. They're case-hardened to increase hardness and wear resistance on the surface of the shaft while allowing the center to remain soft for absorbing stresses caused by shifting loads.
Some of our four-spline shafts have a step-down end, which has been ground smooth and round like a standard shaft. Mount bearings, gears, and other round-bore components.
4 Splines (Metric—52100 Alloy Steel)

Four Splines

Dia.,


mm

Dia.




Tolerance,


mm

Lg.,


mm

Lg.




Tolerance,


mm
Spline


Lg.,


mm

Dia.,


mm

Dia.




Tolerance,


mm

Lg.,


mm
Surface


Smoothness,


microinch
Edge
Type
Yield


Strength,


psi

Each

Splined End ×

Step-Down

End

23
-0.021 to 0
350
-0.7874 to 0.7874
200
20
-0.021 to 0
150
16
Chamfered
57,500
00000000
0000000
Metric Ball Screws and Nuts

Internal ball bearings provide smooth low-friction travel in applications that require high speeds, accurate positioning, and repeatable movement. Also known as single-start ball screws and nuts, these have a single thread that runs the length of the screw. They operate with more torque than fast-travel ball screws and nuts. To ensure compatibility, select components that have the same thread size and travel distance per turn. Ball nuts are furnished with a tube to keep ball bearings in place. Do not remove the tube until you are ready to install the nuts onto the screws.
Travel distance per turn, also known as screw lead, is the distance a ball nut moves with one revolution of the ball screw.
For technical drawings and 3-D models, click on a part number.
Ball Screws with Flange Ball Nut—Right-Hand Threaded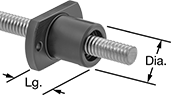 Root diameter indicates the diameter the ball screw will be after machining away the threads.
Thread
Size

Lg.,


mm
Root


Dia.,


mm
Tensile


Strength,


psi

Lg.,


mm

Dia.,


mm

No.

of
Thread
Starts
Travel
Distance
per

Turn,

mm
Accuracy for
Travel
Distance per Turn
Hardness
Dynamic
Thrust
Load

Cap.,

lbs.

Max.




Backlash,


mm
Temperature


Range,




°F

Each

Carbon Steel Ball Screw with Alloy Steel Flange Ball Nut

M10

200
8.6
21,000
28
23
1
2
±0.210 mm per 300 mm
Rockwell C58
510
0.05
5° to 175°
0000000
0000000
M10

300
8.6
21,000
28
23
1
2
±0.210 mm per 300 mm
Rockwell C58
510
0.05
5° to 175°
000000
000000