About
Copper,

Brass,

and Bronze
Selecting Compatible Lead Screws and Nuts
Ultra-Machinable

360 Brass Rods and Discs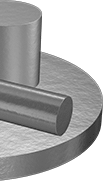 Yield

Strength:


Inch

sizes:

15,

000 psi
Metric

sizes:

23,

000 psi

Hardness:

See table

Temper:


Inch

sizes:

H02 (

1/2

Hard)


Metric

sizes:

1/2

Hard
Heat

Treatable:

No
Specifications

Met:


Inch

sizes:

ASTM B16
Metric

sizes:

European Standard

EN 12164
With the highest lead content of all the brass alloys, 360 offers the best machinability. Often called free-machining and free-cutting brass, it stands up to high-speed drilling, milling, and tapping operations with minimal wear on your tools. It's commonly used for gears, pinions, and lock components.
For technical drawings and 3-D models, click on a part number.

Certificates with a traceable lot number are available for these products. Download certificates from ORDER HISTORY after your order ships.
Acme Lead Screws and Nuts

Found in hand-powered clamps, vises, grates, doors, and work tables, lead screws and nuts have broad, square threads that are well suited for quick assembly, high clamping forces, and lifting and lowering heavy objects. To ensure compatibility, please select components that have the same thread direction and size.
932 bearing bronze components are more wear resistant than brass components. They have good machinability and fair corrosion resistance.
Travel distance per turn, also known as screw lead, is the distance a nut or handle moves with one revolution of the lead screw.
For technical drawings and 3-D models, click on a part number.
Round Nuts—Right-Hand Threaded

Round nuts move objects along the length of a lead screw.
Thread
Size

Ht.

Dia.

No.

of Thread
Starts
Speed
Ratio
Travel Distance
per Turn
Thread Fit

Hardness
Specifications
Met
Each

932 Bearing Bronze

1/4

"-16

17/32

"

25/32

"
1
1:1
0.063"
Class 2G

Not Rated
ASTM B505
000000000
000000