Selecting Compatible Lead Screws and Nuts
Chrome-Plated

Hardened Multipurpose 4140 Alloy Steel Rods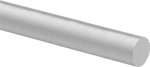 Yield

Strength:

100,

000 psi

Hardness:

Rockwell C30

(Hard)
The chrome plating on these rods increases corrosion resistance. They are hardened for increased abrasion and impact resistance. Also known as chrome-moly steel, this versatile 4140 alloy steel is used for a wide range of parts, such as gears, axles, shafts, collets, and die holders. It resists fracturing from repeated stress.
For technical drawings and 3-D models, click on a part number.

Certificates with a traceable lot number are available for these products. Download certificates from ORDER HISTORY after your order ships.
Metric Lead Screws and Nuts

Found in hand-powered clamps, vises, grates, doors, and work tables, lead screws and nuts have broad, square threads that are well suited for quick assembly, high clamping forces, and lifting and lowering heavy objects. To ensure compatibility, please select components that have the same thread direction, size, and pitch. Class 7e and 7H components are compatible.
932 bearing bronze components are more wear resistant than brass components. They have good machinability and fair corrosion resistance.
Travel distance per turn, also known as screw lead, is the distance a nut moves with one revolution of the lead screw.
For technical drawings and 3-D models, click on a part number.
Flange Nuts—Right-Hand Threaded

Flange nuts move objects along the length of a lead screw. They have a wide machinable flange for custom mounting.
Thread
Size

Thread


Pitch,

mm

Ht.,


mm

Dia.,


mm

Dia.,


mm

Thick.,


mm

No.

of Thread
Starts
Speed
Ratio
Travel Distance
per

Turn,

mm
Thread
Fit

Hardness
Each

932 Bearing Bronze

M40

7
66
63
98
16
1
1:1
7
7H

Not Rated
000000000
0000000