Chrome-Plated

Hardened Multipurpose 4140 Alloy Steel Rods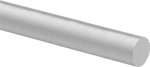 Yield

Strength:

100,

000 psi

Hardness:

Rockwell C30

(Hard)
The chrome plating on these rods increases corrosion resistance. They are hardened for increased abrasion and impact resistance. Also known as chrome-moly steel, this versatile 4140 alloy steel is used for a wide range of parts, such as gears, axles, shafts, collets, and die holders. It resists fracturing from repeated stress.
For technical drawings and 3-D models, click on a part number.

Certificates with a traceable lot number are available for these products. Download certificates from ORDER HISTORY after your order ships.