About
Copper,

Brass,

and Bronze
Easy-to-Machine

145 Copper Rods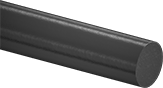 Yield

Strength:

30,

000 psi

Hardness:

Not Rated

Temper:

H02 (

1/2

Hard)

Heat

Treatable:

No
Also called tellurium copper, 145 copper contains tellurium, which makes it more machinable than all other copper while maintaining good corrosion resistance and high electrical conductivity. It's often used for transformer and circuit-breaker terminals, welding torch tips, and fasteners.
For technical drawings and 3-D models, click on a part number.

Certificates with a traceable lot number are available for these products. Download certificates from ORDER HISTORY after your order ships.