About
Copper,

Brass,

and Bronze
High-Strength

Machinable 955 Bronze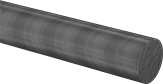 Yield

Strength:

42,

000 psi

Hardness:

Rockwell B95

(Medium)

Temper: M07

Heat

Treatable:

Yes
Specifications

Met:

ASTM

B505;

ASTM

B505M;

California

AB1953;

Federal Safe Drinking Water

Act;

Federal Reduction of Lead in Drinking Water

Act;

QQ-C-

390,

G3;

MIL-B-

16033,

Class 4
For a good combination of strength, machinability, and weldability, choose 955 bronze. It contains nickel for strength, so it can be used for heavy-load applications, such as hydraulic valve parts. Even though it's not as strong as 630 bronze, it's more machinable. Drill, mill, or deburr this bronze just as you would with 954 bronze. You can also weld or solder it since it has a minimum of 10% aluminum. Because of its composition, it's often called aluminum-nickel-bronze.
955 bronze is lead free, so it can be used in applications where lead is restricted or prohibited. It meets federal drinking water and California regulations, making it safe to use in systems that deliver water for drinking.
They adhere to chemical and physical properties outlined by ASTM, as well as commonly referenced military and federal standards.
For technical drawings and 3-D models, click on a part number.

Certificates with a traceable lot number are available for these products. Download certificates from ORDER HISTORY after your order ships.
Dia.

Dia.

Tolerance Range

6"

Lg.

12"

Lg.

36"

Lg.

72"

Lg.

1"
0.0525" to 0.0725"
0000000
1

1/2

"
0.0525" to 0.0725"
0000000
2"
0.0525" to 0.0725"
0000000
2

1/2

"
0.0525" to 0.0725"
0000000
3"
0.0525" to 0.0725"
0000000
3

1/2

"
0.079" to 0.109"
0000000
4"
0.079" to 0.109"
0000000