Selecting Compatible Lead Screws and Nuts
Roller Screws and Nuts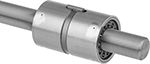 Precision ground to create more points of contact, these roller screws and nuts are highly accurate and handle much higher loads than ball screws and nuts of the same size. They're most traditionally used to replace hydraulics in linear actuators but can also be used in place of ball and lead screw assemblies because of their high load capacity and precise motion control. In fact, they're almost four times more accurate than our most accurate ball and lead screws. They also last longer than ball screw nuts in systems with lower loads and can handle higher shock loads. However, because they have more contact points, they're slightly less efficient than ball screws. To ensure compatibility, select components that have the same thread direction and size.
Roller screws are made of hardened steel for strength and durability.
Travel distance per turn, also known as screw lead, is the distance a roller nut moves with one revolution of the roller screw.
Roller Screws—Right-Hand Partially Threaded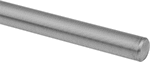 Thread
Size

Lg.,


mm

No.

of
Thread
Starts
Travel
Distance
per

Turn,

mm
Accuracy for
Travel
Distance per Turn

Min.


Thread


Lg.,

mm
Root


Dia.,


mm
Hardness
Tensile


Strength,


psi

Each

Alloy Steel

M15

991
5
4
±0.023 mm per 300 mm
458
14.59
Rockwell C60
105,000
0000000
000000000
M15

991
5
5
±0.023 mm per 300 mm
458
14.44
Rockwell C60
105,000
0000000
00000000
Round Nuts—Right-Hand Threaded

Thread
Size

Lg.,


mm

Dia.,


mm

No.

of
Thread
Starts
Travel
Distance
per

Turn,

mm

Wd.,


mm

Dp.,


mm
Hardness
Dynamic
Thrust
Load

Cap.,

lbs.

Max.




Backlash,


mm

Temp.




Range,




°F

Lubrication
Each

Alloy Steel

M15

45
35
5
4
4
14
Rockwell C60
9,230
0.03
-40° to 350°
Required
0000000
000000000
M15

45
35
5
5
4
14
Rockwell C60
12,000
0.03
-40° to 350°
Required
0000000
00000000