Nonstick
Surface-Grip

Tape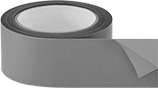 Smooth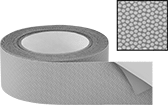 Pebbled
Also known as roller tape, this tape is coated with silicone to grip smooth surfaces and resist sticky substances, such as ink. It adheres to itself without adhesive. Fiberglass cloth tape withstands higher temperatures than rayon cloth tape.
Tape with smooth texture has a smooth surface for an excellent grip.
Tape with pebbled texture provides a moderate grip for an easier release.
Wd.

Overall


Thick.

Material
Facing Material
Adhesive
Type

Max.




Temperature,

°F

Clarity
Color
Each

Smooth

3/4

"
0.018"
Cloth
Silicone Rubber
Rubber
Not Rated
Opaque
Gray
00000000
000000
1"
0.018"
Cloth
Silicone Rubber
Rubber
Not Rated
Opaque
Gray
00000000
00000
2"
0.018"
Cloth
Silicone Rubber
Rubber
Not Rated
Opaque
Gray
00000000
000000

Pebbled

2"
0.029"
Cloth
Silicone Rubber
Rubber
Not Rated
Opaque
Gray
00000000
000000

Smooth

3/4

"
0.008"
Fiberglass Cloth
Silicone Rubber
Rubber
265°
Semi-Clear
White
0000000
00000

3/4

"
0.018"
Cloth
Silicone Rubber
Rubber
Not Rated
Opaque
Gray
00000000
00000
1"
0.008"
Fiberglass Cloth
Silicone Rubber
Rubber
265°
Semi-Clear
White
0000000
00000
1"
0.018"
Cloth
Silicone Rubber
Rubber
Not Rated
Opaque
Gray
00000000
000000
2"
0.008"
Fiberglass Cloth
Silicone Rubber
Rubber
265°
Semi-Clear
White
0000000
00000
2"
0.018"
Cloth
Silicone Rubber
Rubber
Not Rated
Opaque
Gray
00000000
000000

Pebbled

2"
0.029"
Cloth
Silicone Rubber
Rubber
Not Rated
Opaque
Gray
00000000
000000