About Durometer
Durometer is the international standard for measuring the hardness of rubber, plastic, and most nonmetallic materials.
Abrasion-Resistant

Keyed Drive Rollers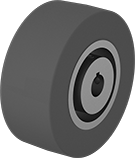 5" to 12"
Roller Diameter
These urethane rollers are wear and chemical resistant. They're also nonmarring. Use them with a keyed shaft to prevent slippage in high-torque applications. Also known as contact wheels and feed rollers, drive rollers spin in unison with a shaft or stud to transmit power.
For technical drawings and 3-D models, click on a part number.
Dia.

Wd.

For
Shaft


Dia.

Wd.

Dp.

Overall


Wd.

Dynamic
Radial Load


Capacity,

lbs.

Shaft
Mount
Type

No.


Required
Included
Temperature


Range,




°F

Durometer


(Hardness Rating)

Each

Urethane Roller with Steel Hub

6"
3"

1/2

"

1/8

"

1/16

"
3

1/4

"
800
Keyway, Set Screw
2
Yes
-20° to 120°
85A (Hard) Red
00000000
0000000
6"
3"

3/4

"

3/16

"

3/32

"
3

1/4

"
800
Keyway, Set Screw
2
Yes
-20° to 120°
85A (Hard) Red
00000000
000000
6"
3"
1"

1/4

"

1/8

"
3

1/4

"
1,600
Keyway, Set Screw
2
Yes
-20° to 120°
85A (Hard) Red
0000000
000000
6"
3"
1

1/4

"

1/4

"

1/8

"
3

1/4

"
1,600
Keyway, Set Screw
2
Yes
-20° to 120°
85A (Hard) Red
00000000
000000
8"
3"

1/2

"

1/8

"

1/16

"
3

1/4

"
800
Keyway, Set Screw
2
Yes
-20° to 120°
85A (Hard) Red
00000000
000000
8"
3"

3/4

"

3/16

"

3/32

"
3

1/4

"
800
Keyway, Set Screw
2
Yes
-20° to 120°
85A (Hard) Red
00000000
000000
8"
3"
1"

1/4

"

1/8

"
3

1/4

"
1,600
Keyway, Set Screw
2
Yes
-20° to 120°
85A (Hard) Red
0000000
000000
8"
3"
1

1/4

"

1/4

"

1/8

"
3

1/4

"
1,600
Keyway, Set Screw
2
Yes
-20° to 120°
85A (Hard) Red
00000000
000000
10"
3"

3/4

"

3/16

"

3/32

"
3

1/4

"
800
Keyway, Set Screw
2
Yes
-20° to 120°
85A (Hard) Red
00000000
000000
10"
3"
1"

1/4

"

1/8

"
3

1/4

"
1,600
Keyway, Set Screw
2
Yes
-20° to 120°
85A (Hard) Red
0000000
000000