Roof Louvers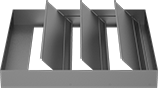 Louver

Surface Mount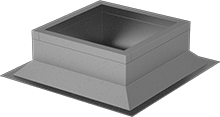 Mounting Base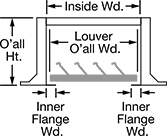 These louvers are gravity operated. The blades open when your roof-mounted exhaust fan goes on and close when it's off, preventing backdrafts. The felt seal on the face of the blades ensures quiet closing and better protection from the weather.
Mounting bases are sold separately. Louvers fit the bottom of the mounting base and must be secured to the lip of the base with sheet metal screws (not included).
Also Available: Additional louver sizes. Please select 8061T999 and specify louver dimensions.
For technical drawings and 3-D models, click on a part number.
8"

Overall

Ht.


Mounting Bases

12"

Overall

Ht.


Mounting Bases

Wd.

Ht.

Wd.

Lg.

For

Max.

Air


Velocity,


fpm

Temp.




Range,




°F

Mounting
Fasteners
Included
Each
Inside


Wd.

Each
Inside


Wd.

Each

Surface Mount

Galvanized Steel Frame and Aluminum Blades

13

3/4

"
13

3/4

"
13

3/4

"
13

3/4

"
2,000
-40° to 180°
No
000000
000000
14

1/2

"
0000000
0000000
14

1/2

"
0000000
0000000
15

3/4

"
15

3/4

"
15

3/4

"
15

3/4

"
2,000
-40° to 180°
No
000000
00000
16

1/2

"
0000000
000000
16

1/2

"
0000000
000000
17

3/4

"
17

3/4

"
17

3/4

"
17

3/4

"
2,000
-40° to 180°
No
000000
00000
__
000000
00
19

1/2

"
0000000
000000
19

3/4

"
19

3/4

"
19

3/4

"
19

3/4

"
2,000
-40° to 180°
No
0000000
00000
21

1/2

"
0000000
000000
__
000000
00
21

3/4

"
21

3/4

"
21

3/4

"
21

3/4

"
2,000
-40° to 180°
No
0000000
00000
__
000000
00
23

1/2

"
0000000
000000
23

3/4

"
23

3/4

"
23

3/4

"
23

3/4

"
2,000
-40° to 180°
No
0000000
00000
__
000000
00
25

1/2

"
0000000
000000
27

3/4

"
27

3/4

"
27

3/4

"
27

3/4

"
2,000
-40° to 180°
No
0000000
00000
__
000000
00
28

1/2

"
0000000
000000
34

3/4

"
34

3/4

"
34

3/4

"
34

3/4

"
2,000
-40° to 180°
No
0000000
000000
35

1/2

"
0000000
000000
35

1/2

"
0000000
000000
36

3/4

"
36

3/4

"
36

3/4

"
36

3/4

"
2,000
-40° to 180°
No
0000000
000000
__
000000
00
37

1/2

"
0000000
000000