Level Switches for Dry Materials
When dry material rises to the level of the rotating paddle, these switches actuate. All are rated NEMA 4X and IP66 for protection from corrosion and washdowns.
Switches with auxiliary SPDT relay activate an alarm (not included).
For technical drawings and 3-D models, click on a part number.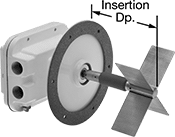 Horizontal Side Mount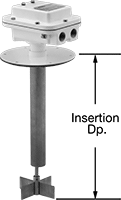 Vertical Top Mount
Current

Max.


Pressure

Temp.




Range,




°F

Insertion


Dp.

Switch
Starting
Position
Industry
Designation
Paddle


Speed,


rpm

Lg.

Wd.

Features
Environmental
Rating
Specifications
Met
Each

Horizontal Side

Mount—

0-30

lbs.

per

cu.

ft.

Capacity

8 A @ 120 V AC
30 psi @ 70° F
-40° to 110°
6

5/8

"
1 Off (Normally Open) or 1 On (Normally Closed)

SPDT

1
7"
2"
Auxiliary SPDT Relay
LED Alarm Status Indicator
LED Power Indicator
IP66, NEMA 4X, NEC Class I Divisions 1, 2 Groups C, D, NEC Class II Divisions 1, 2 Groups E, F, G
UL Listed
C-UL Listed
00000000
0000000
20 A @ 120 V AC
30 psi @ 70° F
-40° to 110°
6

5/8

"
1 Off (Normally Open) or 1 On (Normally Closed)

SPDT

1
7"
2"
__
IP66, NEMA 4X, NEC Class I Divisions 1, 2 Groups C, D, NEC Class II Divisions 1, 2 Groups E, F, G
UL Listed
C-UL Listed
00000000
000000

Vertical Top

Mount—

30-70

lbs.

per

cu.

ft.

Capacity

8 A @ 120 V AC
30 psi @ 70° F
-40° to 110°
12"
1 Off (Normally Open) or 1 On (Normally Closed)

SPDT

1
5"
1

1/2

"
Auxiliary SPDT Relay
LED Alarm Status Indicator
LED Power Indicator
IP66, NEMA 4X, NEC Class I Divisions 1, 2 Groups C, D, NEC Class II Divisions 1, 2 Groups E, F, G
UL Listed
C-UL Listed
00000000
000000
20 A @ 120 V AC
30 psi @ 70° F
-40° to 110°
12"
1 Off (Normally Open) or 1 On (Normally Closed)

SPDT

1
5"
1

1/2

"
__
IP66, NEMA 4X, NEC Class I Divisions 1, 2 Groups C, D, NEC Class II Divisions 1, 2 Groups E, F, G
UL Listed
C-UL Listed
00000000
000000
Replacement Paddles for Horizontal Side Mount Level Switches
Replacement Motors for 20 A @ 120 V AC Level Switches