Food Industry Drainage Mats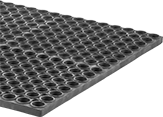 These mats meet NSF/ANSI standards for use in food-processing areas. Made of soft, flexible rubber, they are comfortable and easy to roll up for cleaning underneath.
Buna-N/natural rubber mats withstand occasional contact with grease.
Buna-N rubber mats are greaseproof for areas where grease and oil are constantly present. 7/8" thick mats are durable for high-traffic areas.
Wd.

Lg.

Drainage
Opening

Dia.

Edge
Profile
For Use
Outdoors
Specifications
Met
Material
Each
36"
24"

3/4

"
Flat
No
NSF/ANSI 52

Buna-N/Natural Rubber
0000000
0000000
36"
36"

3/4

"
Flat
No
NSF/ANSI 52

Buna-N/Natural Rubber
0000000
000000
36"
48"

3/4

"
Flat
No
NSF/ANSI 52

Buna-N/Natural Rubber
0000000
000000
36"
72"

3/4

"
Flat
No
NSF/ANSI 52

Buna-N/Natural Rubber
0000000
000000
19

1/2

"
39"

7/8

"
Flat
No
NSF/ANSI 52

Buna-N Rubber
0000000
000000
29

1/4

"
39"

7/8

"
Flat
No
NSF/ANSI 52

Buna-N Rubber
0000000
000000
39"
39"

7/8

"
Flat
No
NSF/ANSI 52

Buna-N Rubber
0000000
000000
39"
58

1/2

"

7/8

"
Flat
No
NSF/ANSI 52

Buna-N Rubber
0000000
000000