Super-Soft

Wear-Resistant

Antifatigue Mats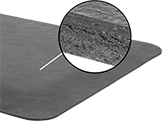 E
Thicker than our other wear-resistant antifatigue mats, these mats have more cushion for greater comfort. Also known as ergonomic mats, they reduce the fatigue and strain of standing while working.
Mats with a rubber surface are more durable and abrasion resistant than vinyl.
Styles E and F have a smooth, easy-to-clean surface. Use where high traction is not essential. Style E are reinforced with nylon for exceptional strength and durability. They resist damage from spikes, cleats, and blades—they even withstand forklift traffic. They're excellent for use in high-traffic areas.
For technical drawings and 3-D models, click on a part number.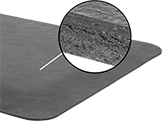 E
Wd.

Lg.

Thick.

Reinforcement
Material
Edge
Profile
Number of
Tapered Edges
For Use
Outdoors
Color
Each

Recycled Rubber Over

Buna-N

Foam

24"
36"

3/4

"
Nylon Fiber
Tapered
4
No
Black
00000000
0000000
24"
72"

3/4

"
Nylon Fiber
Tapered
4
No
Black
00000000
000000
36"
48"

3/4

"
Nylon Fiber
Tapered
4
No
Black
00000000
000000
36"
60"

3/4

"
Nylon Fiber
Tapered
4
No
Black
00000000
000000
36"
72"

3/4

"
Nylon Fiber
Tapered
4
No
Black
00000000
000000
36"
10ft.

3/4

"
Nylon Fiber
Tapered
4
No
Black
00000000
000000
36"
12ft.

3/4

"
Nylon Fiber
Tapered
4
No
Black
00000000
000000
48"
60"

3/4

"
Nylon Fiber
Tapered
4
No
Black
00000000
000000
48"
72"

3/4

"
Nylon Fiber
Tapered
4
No
Black
00000000
000000
Style E—Smooth (Cut-to-Length)