Certified Lightweight Aluminum Rulers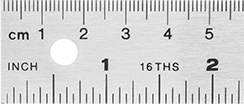 Inch/Metric,
Left to Right
Ensure accurate measurements with these certified rulers. All include a calibration certificate stating they are made in accordance to NIST specifications and tolerances. They're an economical alternative to Certified Corrosion-Resistant Stainless Steel rulers.
Lg.

Front Graduation Marks


(Numeric Increments)

Wd.

Thick.

Flexibility
Color
Graduation
Mark Style
Hole


Dia.

Each

Inch/Metric—

Left to Right Reading Direction

Aluminum

39"/100 cm
Millimeters (1 cm), 16ths (1")
1

3/8

"

1/16

"
Rigid
Silver
Printed

1/4

"
0000000
000000
Lightweight Aluminum Rulers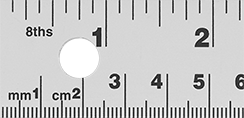 Made of aluminum, these rulers are an economical alternative to Corrosion-Resistant Stainless Steel Rulers.
Lg.

Front Graduation Marks


(Numeric Increments)

Wd.

Thick.

Flexibility
Color
Graduation
Mark Style
Hole


Dia.

Each

Inch/Metric—

Left to Right Reading Direction

Aluminum

39"/100 cm
Millimeters (1 cm), 16ths (1")
1

3/8

"

1/16

"
Rigid
Silver
Printed

1/4

"
0000000
000000