Certified Lightweight Aluminum Rulers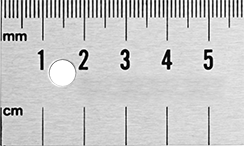 Ensure accurate measurements with these certified rulers. All include a calibration certificate stating they are made in accordance to NIST specifications and tolerances. They're an economical alternative to Certified Corrosion-Resistant Stainless Steel rulers.
Lg.

Front Graduation Marks

(Numeric Increments)

Wd.

Thick.

Flexibility
Color
Graduation
Mark Style
Hole


Dia.

Each

Metric—

Left to Right Reading Direction

Aluminum

75 cm
Millimeters (1 cm), Centimeters (1 cm)
1

3/8

"

1/16

"
Rigid
Silver
Printed

1/4

"
0000000
000000
Lightweight Aluminum Rulers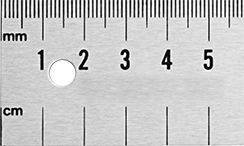 Metric
Made of aluminum, these rulers are an economical alternative to Corrosion-Resistant Stainless Steel Rulers.
Lg.

Front Graduation Marks

(Numeric Increments)

Wd.

Thick.

Flexibility
Color
Graduation
Mark Style
Hole


Dia.

Each

Metric—

Left to Right Reading Direction

Aluminum

75 cm
Millimeters (1 cm), Centimeters (1 cm)
1

3/8

"

1/16

"
Rigid
Silver
Printed

1/4

"
0000000
00000