About Selecting Wool Felt
Hard Felt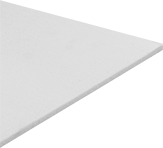 Made of 100% wool, this is more abrasion resistant and better at damping vibration than other types of felt.
S2-32 felt is the hardest felt we offer. Use it for shock-absorbing bumpers, gaskets, and washers.
S2-24 felt is slightly less firm than S2-32 felt. It is commonly used for buffing, padding, in ink rollers, and in marking devices.
S2-20 felt can be used on polishing wheels for buffing lenses, mirrors, glass, marble, granite, metals, and wood.
For technical drawings and 3-D models, click on a part number.
Thick.

Wool Fiber
Content

Density,




lbs./sq.

yd.

Hardness
Pressure to
Compress

10%,

psi
Temperature


Range,

°F

Color
Tensile


Strength,


psi

Each

1/8

"
100%
4.00
Durometer 80A
121
-80° to 200°
Off-White
500
0000000
000000

1/4

"
100%
8.00
Durometer 80A
121
-80° to 200°
Off-White
500
0000000
00000

3/8

"
100%
12.00
Durometer 80A
121
-80° to 200°
Off-White
500
0000000
00000

1/2

"
100%
16.00
Durometer 80A
121
-80° to 200°
Off-White
500
0000000
00000

1/8

"
100%
3.00
Durometer 55A
86
-80° to 200°
Off-White
600
0000000
00000

1/4

"
100%
6.00
Durometer 55A
86
-80° to 200°
Off-White
600
0000000
00000

3/8

"
100%
9.00
Durometer 55A
86
-80° to 200°
Off-White
600
0000000
00000

1/2

"
100%
12.00
Durometer 55A
86
-80° to 200°
Off-White
600
0000000
00000

1/8

"
100%
2.50
Durometer 50A
58
-80° to 200°
Off-White
500
0000000
00000

1/4

"
100%
5.00
Durometer 50A
58
-80° to 200°
Off-White
500
0000000
00000

3/8

"
100%
7.50
Durometer 50A
58
-80° to 200°
Off-White
500
0000000
00000

1/2

"
100%
10.00
Durometer 50A
58
-80° to 200°
Off-White
500
0000000
00000

1/8

"
100%
4.00
Durometer 80A
121
-80° to 200°
Off-White
500
0000000
000000

1/4

"
100%
8.00
Durometer 80A
121
-80° to 200°
Off-White
500
0000000
000000

3/8

"
100%
12.00
Durometer 80A
121
-80° to 200°
Off-White
500
0000000
000000

1/2

"
100%
16.00
Durometer 80A
121
-80° to 200°
Off-White
500
0000000
000000

1/8

"
100%
3.00
Durometer 55A
86
-80° to 200°
Off-White
600
000000
000000

1/4

"
100%
6.00
Durometer 55A
86
-80° to 200°
Off-White
600
000000
000000

3/8

"
100%
9.00
Durometer 55A
86
-80° to 200°
Off-White
600
000000
000000

1/2

"
100%
12.00
Durometer 55A
86
-80° to 200°
Off-White
600
000000
000000

1/8

"
100%
2.50
Durometer 50A
58
-80° to 200°
Off-White
500
0000000
000000

1/4

"
100%
5.00
Durometer 50A
58
-80° to 200°
Off-White
500
0000000
000000

3/8

"
100%
7.50
Durometer 50A
58
-80° to 200°
Off-White
500
0000000
000000

1/2

"
100%
10.00
Durometer 50A
58
-80° to 200°
Off-White
500
0000000
000000