Heat Exchangers for Sampling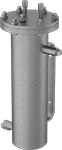 1.
64
sq.
ft.
Surface Area

Often used to monitor boiler water quality without shutting down the system, these heat exchangers cool hot liquid samples to safe temperatures for testing. Sample liquid flows through the tubes, and cold water from an external water supply flows around the tubes to cool the liquid in the tubes.
304 stainless steel tubes are more corrosion resistant than copper tubes.
316 stainless steel tubes have the best corrosion resistance.
For technical drawings and 3-D models, click on a part number.
Surface


Area,




sq.

ft.

Pipe
Size

Thread
Type
Gender
Flow


Cap.,


gpm

Max.




Pressure,


psi

Max.




Temp.,




°F

Pipe
Size

Thread
Type
Gender
Flow


Cap.,


gpm

Max.




Pressure,


psi

Max.




Temp.,




°F

Lg.

Head


Dia.

Each

Steel Shell and Copper Tube

1.3

1/4

NPT

Female
2
150
450°

1/4

NPT

Female
4
300
400°
17

1/4

"
3

1/2

"
0000000
0000000
1.64

1/2

NPT

Female
Not Rated
250
650°

1/4

NPT

Male
Not Rated
300
400°
19"
7"
0000000
000000

Steel Shell and 304 Stainless Steel Tube

1.64

1/2

NPT

Female
Not Rated
250
650°

1/4

NPT

Male
Not Rated
900
750°
19"
7"
0000000
000000

Steel Shell and 316 Stainless Steel Tube

1.3

1/4

NPT

Female
2
150
450°

1/4

NPT

Female
4
1,200
750°
17

1/4

"
3

1/2

"
0000000
000000
3.8

3/8

NPT

Female
2
150
450°

1/4

NPT

Female
4
4,900
750°
32

5/8

"
__
0000000
00000000