Sanitary
Snap-In

Duct Hose and Fittings

Hose and Fittings Shown Installed
Flexible

Color:

Clear
Temperature

Range:

See Table
Transfer material from sifters, feeders, and strainers to other parts of your sanitary line with these hose lengths and fittings. They're 3-A and USDA certified to meet sanitary design standards, as well as FDA compliant for direct contact with food. Cuffs at each end of the hose have grooves that snap into matching grooves on fittings. These grooves form a seal that's more sanitary than hose clamp connections, since there are no gaps where contaminants could gather. It's also tighter and less likely to leak than hose clamps. When pressure increases, the hose presses against fittings, tightening the seal. You don't need tools to install or remove this hose—squeeze the end cuff to slide it into or out of fittings.
Made from flexible, abrasion-resistant plastic, this hose won't crack and rip from the movement of your machines. It's also chemical-resistant, so it holds up to frequent washing during clean-in-place (CIP) cycles. The smooth seams won't trap food and other particles. It's clear, so you can monitor flow.
When choosing a hose length, consider the side-to-side, horizontal, and rotational movement of your machines. You'll need hose that's slightly longer than the gap between equipment to account for movement and vibration.
Hose with 1" coil is good for applications with up-and-down movement, such as bag feeders. The closely-spaced internal coil helps the hose maintain its shape while it's compressed.
Hose with 4" coil has thick, flexible walls that bend side-to-side to handle misalignment and rotation. It's often used with sifters and strainers. This hose doesn't handle up-and-down movement as well as hose with 1" coil, since the walls may crease when the hose is compressed. Creases in the hose wall restrict flow, increase wear, and create pockets that trap food and liquids. This hose is latex-free and doesn't include Bisphenol A (BPA), which is a chemical that can contaminate your line.
Fittings are stainless steel, which won't corrode from harsh cleaners and sanitizers. You can cut them to fit onto existing pipes. Weld them to the inlets and outlets on your equipment before attaching hose.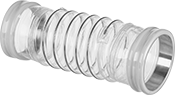 Duct Hose with
1"
Coil Length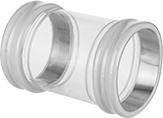 Duct Hose with
4"
Coil Length
ID
OD
Bend
Radius
Compresses
To

Max.


Vacuum

Max.


Pressure
Temperature


Range,




°F

Material
Thickness
Direction
Material
Surface


Resistivity,




ohms/sq.

Specifications
Met

4"




Lg.

6"




Lg.

8"




Lg.

10"




Lg.

12"




Lg.

16"




Lg.

Plastic

3

15/16

"
4"
Not Rated
33%
Not Rated
Not Rated
0° to 180°
0.032"
Right Hand
Metal
Not Rated
3-A Certified 20-27
3-A Certified 63-03
FDA Compliant 21 CFR 175.105
FDA Compliant 21 CFR 177.1680
FDA Compliant 21 CFR 177.2600
000000
3

15/16

"
4"
Not Rated
40%
Not Rated
Not Rated
-10° to 230°
0.032"
Right Hand
Metal
10,000,000,000
3-A Certified 20-27
3-A Certified 63-03
FDA Compliant 21 CFR 177.1680
FDA Compliant 21 CFR 177.2600
000000
5

15/16

"
6"
Not Rated
40%
Not Rated
Not Rated
-10° to 230°
0.032"
Right Hand
Metal
10,000,000,000
3-A Certified 20-27
3-A Certified 63-03
FDA Compliant 21 CFR 177.1680
FDA Compliant 21 CFR 177.2600
000000
7

15/16

"
8"
Not Rated
40%
Not Rated
Not Rated
-10° to 230°
0.032"
Right Hand
Metal
10,000,000,000
3-A Certified 20-27
3-A Certified 63-03
FDA Compliant 21 CFR 177.1680
FDA Compliant 21 CFR 177.2600
000000