Hand Sanitizers

Pail
Hand sanitizers work without water or rinsing, killing 99.99% of common germs and bacteria. They are alcohol based and dry instantly.
They cannot be sold outside the United States due to product registration requirements.
Type

No.

of
Wipes
Cannot Be Sold To
Each

Wipe

Pail
175
Outside United States
0000000
000000
Stands for Hand Sanitizer Dispensers
Mount hand sanitizer and wipe dispensers near your facility's entrance to help people follow good sanitizing practices and limit the spread of illness. These stands go wherever they're most convenient. All have a drip tray to protect tables and floors, as well as a square base to keep them from tipping over. Hand sanitizer dispensers and wipes are not included.
Stands for sanitizer wipes hold standard-size wipe containers.
Aluminum and steel stands are more durable than plastic stands.
Stands with felt pads prevent scratches to tabletops and floors.
Display signs in stands that have a frame. They catch people's attention from a distance, so they know where to go to sanitize their hands.
Floor Stand
for Wipe
Dispenser
Height
Width
Depth
For Maximum
Container Diameter
Material
Base
Material
Features
Each

For Wipe Dispensers

44"
12"
12"
4

1/4

"
Aluminum
Steel
Drip Tray, Felt Pads
0000000
000000

Kill bacteria, viruses, and fungi. Some of these cleaners also remove dirt. They cannot be sold to the regions listed because they exceed local regulatory limits on VOCs (volatile organic compounds).
Type

Lg.

Wd.

Wipes per
Container
Composition
Harshness
For Use On
For
Removing
Cannot Be Sold To
Each

Wipe

Canister
8"
7"
35
Water Based
Mild
Aluminum, Brass, Bronze, Ceramic, Chrome, Copper, Galvanized Steel, Glass, Linoleum, Painted Surfaces, Plastic, Porcelain, Stainless Steel, Steel, Stone, Terrazzo, Vinyl, Waxed Floors, Wood
Bacteria, Dirt, Viruses
Outside United States
0000000
00000
Antiseptic Wipes

Antiseptic wipes cannot be sold outside the United States due to product registration requirements.
Antiseptic Swabs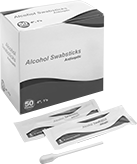 Antiseptic swabs cannot be sold outside the United States due to import regulations and product registration requirements.
Active Ingredients
Concentration
Cannot Be Sold To

Pkg.




Qty.

Pkg.

Isopropyl Alcohol
70.00%
Outside United States
50
000000000
000000
Personal Protection Packs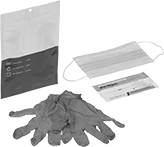 Keep these packs on hand and you'll always be prepared with a disposable face mask, rubber gloves, and wipes whenever you need them. All have a resealable pouch, which secures the contents and limits cross contamination. The masks and gloves are latex-free, so they're good for those who are sensitive to latex. Choose from single-use packs or larger packs that allow multiple changes throughout the day.
Made of 3-ply fabric, the masks protect you from dust, particles, and germs that may cause illness. They're lightweight and easy to breathe through, so you can comfortably wear them for long periods of time. Elastic ear loops make them easy to slip on and off. All of the masks meet ASTM F2100, which means they're good for general purpose use in dry environments, and filter at least 95% of bacteria and airborne particles down to 0.1 micron.
Use the gloves to keep your hands protected from bacteria and germs that could cause illness. Made of durable nitrile rubber, they resist rips and tears. All meet strict European Union safety standards for personal protection equipment.
Use the wipes to kill bacteria, viruses, and germs from surfaces. Moistened with a 60% isopropyl alcohol solution, they come individually bagged to prevent them from drying out.
Coverage
Closure
Type
Material
Specifications
Met
Coverage
Material

Thick.,


mil

Lg.

Specifications
Met

Lg.

Wd.

Active
Ingredient
Concentration
Each

1 Disposable

Mask,

1 Pair of Disposable

Gloves,

and 2 Wipes in a Resealable Pouch

Half Face
Elastic
Fabric
ASTM F2100
Full Hand
Nitrile Rubber
2
9

1/2

"
EN 420, EN 455
7

3/8

"
6

3/4

"
Isopropyl Alcohol
60%
0000000
00000

3 Disposable

Masks,

3 Pairs of Disposable

Gloves,

and 5 Wipes in a Resealable Pouch

Half Face
Elastic
Fabric
ASTM F2100
Full Hand
Nitrile Rubber
2
9

1/2

"
EN 420, EN 455
7

3/8

"
6

3/4

"
Isopropyl Alcohol
60%
0000000
00000

20 Disposable

Masks,

5 Pairs of Disposable

Gloves,

and 10 Wipes in a Resealable Pouch

Half Face
Elastic
Fabric
ASTM F2100
Full Hand
Nitrile Rubber
2
9

1/2

"
EN 420, EN 455
7

3/8

"
6

3/4

"
Isopropyl Alcohol
60%
0000000
00000