Chemical-Resistant

Disposable Coveralls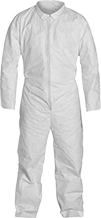 Long Sleeve
Hooded Long Sleeve with Boot Covers
These coveralls have a polyethylene coating to provide full body protection against chemical spills and splashes. A special type of Tyvek, these coveralls are soft yet tear and abrasion resistant. They have a zipper down the front.
Tychem 4000 (formerly known as Tychem SL) has a resin film in the coating, which makes it more chemical resistant than Tychem 2000. It holds up against acids and alkalies, including hydrochloric acid, hydrofluoric acid, nitric acid, sulfuric acid, isopropyl alcohol, hydrogen peroxide, and sodium hydroxide.
Open cuffs provide better airflow than elastic cuffs. Elastic cuffs help keep dirt and grime out better than open cuffs.
Use the size chart for general guidance. When choosing a size, consider individual body shape and clothing worn underneath.
Size
For Height
For Weight
M
5'2"-5'7"
125-160 lbs.
L
5'5"-5'10"
140-200 lbs.
XL
5'7"-6'2"
150-220 lbs.
2XL
5'11"-6'4"
180-240 lbs.
3XL
6'2"-6'5"
230-280 lbs.
4XL
6'4"-6'8"
240-300 lbs.
Material
Coating Material
Closure
Type
Cuff
Style
Color
Choose a Size
Each

Long Sleeve

Tychem 4000 Fabric
Polyethylene Plastic
Zipper
Open
White
0000000
000000
Tychem 4000 Fabric
Polyethylene Plastic
Zipper
Elastic
White
0000000
00000

Hooded Long Sleeve with Boot Covers

Tychem 4000 Fabric
Polyethylene Plastic
Zipper
Elastic
White
0000000
00000